Site Notice
Please check our Coverage page to see what deserves an article and what doesn't.
Please join in a discussion about our coverage.
Be sure to join the discussions going on the NIWA Wikis Discord Server.
Please no leaked content, however information from interviews and information data-mined from officially released products is allowed.
Densetsu no Starfy 3
Jump to navigation
Jump to search
Densetsu no Starfy 3
伝説のスタフィー3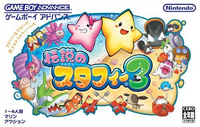 Boxart of Densetsu no Starfy 3
| | |
| --- | --- |
| N. America: | N/A |
| Japan: | August 5, 2004 |
| Europe: | N/A |
| Australia: | N/A |
| S. Korea: | N/A |
Densetsu no Starfy 3 is the third game in The Legendary Starfy series and the sequel to Densetsu no Starfy 2.
One day, after the events of Densetsu no Starfy 2, the clouds began to darken and debris began to fall from the sky. Papa Star was confused because Ogura was in no doubt sealed in the Jar. The scene changes unknown to show an unknown being sitting in a chair. Wondering whether Ogura had conquered Pufftop yet, on realizing he hadn't he struck a lightning bolt on the Jar, destroying it completely and releasing Ogura.
Papa Star tells Starfy and Moe that they must pursue Ogura and defeat him somehow. Moe does not like the idea of going on another adventure but Papa Star is angry at him because the peace of Pufftop is at stake. Starfy's younger sister Starly then appears and successfully pushes Starfy and Moe off the edge of Pufftop and back into the ocean while they resist.
Starfy, Moe and Starly's quest is to bring peace back to Pufftop as they find out about the unknown being and pursue Ogura. Like before, Starfy must help out other characters and fight bosses on the way.
Release data
[
edit
]
Densetsu no Starfy 3 is one of the Nintendo games with internal revisions, specifically there is both a v1.0 and Rev 1 release of the game. Actual changes between these revisions are unknown, except for their internal build texts.
External links
[
edit
]