Site Notice
Please check our Coverage page to see what deserves an article and what doesn't.
Please join in a discussion about our coverage.
Be sure to join the discussions going on the NIWA Wikis Discord Server.
Please no leaked content, however information from interviews and information data-mined from officially released products is allowed.
Xevious
Jump to navigation
Jump to search
3D Classics: Xevious
ゼビウス
Classic NES Series: Xevious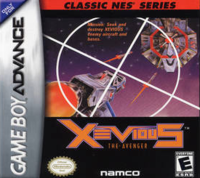 Boxart of Classic NES Series: Xevious
Xevious is a popular vertical scrolling shooter game by Namco.
Known as Classic NES Series: Xevious, Nintendo would publish a port of the game for Game Boy Advance, in 2004. Later with Arika in 2011, Nintendo released 3D Classics: Xevious for Nintendo 3DS, with added 3D support.