Site Notice
Please check our Coverage page to see what deserves an article and what doesn't.
Be sure to join the discussions going on our board.
Kaeru no Tame ni Kane wa Naru
Jump to navigation
Jump to search
Kaeru no Tame ni Kane wa Naru
カエルの為に鐘は鳴る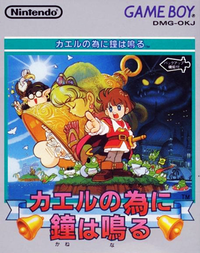 Japanese box art.
Kaeru no Tame ni Kane wa Naru (translated as The Frog for Whom the Bell Tolls[1]) is a Game Boy adventure game, developed by Nintendo R&D1 and Intelligent Systems and released in 1992 exclusively in Japan.
The engine for this game would later be reused for The Legend of Zelda: Link's Awakening, as evident by many elements such as the overworld and side-scrolling sections.
In 2002, a Game Boy Color version of the game was announced, but was never released.[2]
The prince of the Sablé Kingdom and the prince of the neighboring Custard Kingdom, Prince Richard, have been friendly rivals since childhood, often competing against each other. When news arrives that Princess Tiramisu of the Mille-Feuille Kingdom has been captured by the invading King Delarin and his army, both princes set off on a journey to save her and the kingdom.
Gameplay
[
edit
]
In Kaeru no Tame ni Kane wa Naru, the main overworld gameplay consists of two styles: the top-down style of gameplay, simiar to The Legend of Zelda, and a 2D side-scrolling gameplay style in which players engage in platforming challenges. When the prince runs into an enemy, rather than actually fighting the enemy a dust cloud appears and the player watches the out-of-sight battle, with the more powerful of the two being victorious when the cloud disappears. Pressing a button during combat brings up a menu that allows the player to either use an item or run away.
Throughout the game, the Prince of Sablé gains two transformations by drinking potions from the witch Mandola, which must be used in tandem with his human form to progress through the game. The frog transformation activates whenever the prince enters a water area, and allows him to swim, jump higher, and eat insect enemies to recover health, though he cannot fight enemies in this state; a Joy Fruit transforms the prince back to normal. The snake transformation activates when the prince eats a HotSprings Egg, and allows him to pass through tight areas, talk to regular snakes, scare frogs, and turn normal enemies into blocks by biting them, but the snake form cannot jump as high.
Technical details
[
edit
]
Media

Game Boy Game Pak
Digital download (Nintendo 3DS)

Input / compatible controllers

Game Boy
Nintendo 3DS
Other releases
[
edit
]
| Title | Boxart | Console | Release Date(s) | Notes |
| --- | --- | --- | --- | --- |
| Kaeru no Tame ni Kane wa Naru | | Nintendo 3DS (Virtual Console) | JP: September 5, 2012 | A direct port of the original game released as a digital download on the Nintendo eShop for Nintendo 3DS, with added Virtual Console emulator features. |
Characters from this game have since made cameo appearances in other titles. Dr. Arewo Stein would later appear as a minor character in the Wario Land series, appearing in both Wario Land 3 and Wario Land 4. In addition to this, the secondary protagonist, Prince Richard, would also appear as a minor character in The Legend of Zelda: Link's Awakening.
External links
[
edit
]
References
[
edit
]