Site Notice
Please check our Coverage page to see what deserves an article and what doesn't.
Please welcome our first Editor-in-Chief, Toa 95! Congratulations!
Please no leaked content less than one year old, or videos of leaks.
Rayman Legends
Jump to navigation
Jump to search
Rayman Legends
レイマン レジェンド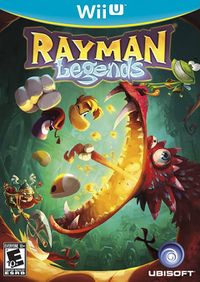 North American Wii U box art.
| | |
| --- | --- |
| N. America: | September 3, 2013 |
| Japan: | October 17, 2013 |
| Europe: | August 30, 2013 |
| Australia: | August 29, 2013 |
Rayman Legends is a 2D platforming game in Ubisoft's Rayman series. Originally announced as a Wii U exclusive, the game was released in 2013 for Wii U, PlayStation 3, and Xbox 360, while in Japan the game was still released exclusively for Wii U, published by Nintendo. In other regions, Rayman Legends was later for PlayStation Vita, PlayStation 4, and Xbox One. Finally, a "Definitive Version" will be released for Nintendo Switch later in 2017. The game is a follow-up to Ubisoft's previous Rayman platformer, Rayman Origins.
Box
---
Make your life LEGENDARY

Swipe, turn, and tickle as Murfy–on the Wii U GamePad

Rock the party in crazy musical levels!

Join the mischief with up to five players in co-op.
Nintendo eShop
---
Rayman® Legends showcases all you can do on the Wii U GamePad!

Discover new ways to platform such as using the GamePad to take out enemies, manipulate platforms, cut ropes to clear a path, and much more! You can even move rotating platforms... There are many more surprises to come!

Rock and platform to new musical levels! Timing and rhythm are key to beat these maps set to licensed music tracks.

Play co-op with up to five players! With four Wii Remote™ controllers and the new GamePad, up to five players can play at once! If someone wants to leave or join in at any time, the game will continue without interruption.
Following the events of Rayman Origins, Rayman and his friends have been sleeping for one century. During this time, the Bubble Dreamer's powers have been growing and releasing more nightmares, while the Magician survived the events of the previous game and ended up being split into five Dark Teensies. Rayman and friends are awakened by Murfy, who tells them that the ten princesses of the land and the Teensies have been captured by the Bubble Dreamer's nightmares and the Dark Teensies. Rayman and friends must save the princesses and Teensies and defeat the nightmares.
Gameplay
[
edit
]
Gameplay of Rayman Legends is similar to that of Rayman Origins. Rayman's control and moveset from the previous game are kept for this installment. Players progress from stage to stage by collecting Lums in each level.
Using the Wii U GamePad, players can control Murfy by using the touch screen, allowing him to interact with parts of the stage and helping players progress through stages. In certain areas when playing single-player, the player directly controls Murfy while Rayman is computer-controlled.
The game features a multiplayer minigame titled "Kung Foot", in which players are divided into teams and must attack a ball to knock it into the opposing team's goal.
Development
[
edit
]
In April 2012, a trailer for Rayman Legends was leaked online, showing the game's graphical capabilities, multiplayer features and new characters, and NFC features on Wii U. Ubisoft would later state that the trailer was meant to be an internal demonstration, but confirmed that Rayman Legends was in development, being worked on by series creator Michel Ancel and Ubisoft Montpelier.[1]
In late 2012, Ubisoft announced that the Japanese release of Rayman Legends would be published by Nintendo.[2] However, in February 2013, weeks away from the game's release date, Ubisoft announced that Rayman Legends would no longer be a Wii U exclusive title in regions outside Japan, stating that Xbox 360 and PlayStation 3 versions were in development and that the game would be instead released in September 2013 in North America.[3]
Reception
[
edit
]
| | |
| --- | --- |
| | This section is a stub. You can help NintendoWiki by expanding it. |
In Japan, Rayman Legends sold 1,435 copies on its first week at retail, the second best-selling Wii U title of the week.[4]
Technical details
[
edit
]
External links
[
edit
]


Rayman Legends on other NIWA Wikis:
References
[
edit
]