Site Notice
Please check our Coverage page to see what deserves an article and what doesn't.
Please welcome our first Editor-in-Chief, Toa 95! Congratulations!
Please no leaked content less than one year old, or videos of leaks.
The Legend of Zelda: Skyward Sword
Jump to navigation
Jump to search
The Legend of Zelda: Skyward Sword
ゼルダの伝説 スカイウォードソード
Zelda no Densetsu: Sukaiwōdo Sōdo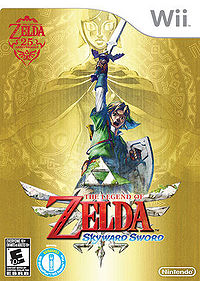 The Legend of Zelda: Skyward Sword boxart
| | |
| --- | --- |
| N. America: | November 20, 2011 |
| Japan: | November 23, 2011 |
| Europe: | November 18, 2011 |
| Australia: | November 24, 2011 |
| S. Korea: | November 24, 2011 |
The Legend of Zelda: Skyward Sword is a video game in the Legend of Zelda series released for the Wii in 2011, developed by Nintendo Entertainment Analysis and Development and published by Nintendo.
Link must answer the call of destiny and set out on an adventure that will take him from the vast skies to the mysterious land below.
The story begins with Link planning to enter the annual Wing Ceremony, in Skyloft, a floating area in the sky. Link's Loftwing has been hidden from him by bullies at the start of the game, but upon recovering it, Link wins the Wing Ceremony, and gets to spend some personal time with Zelda. The two bond, flying their Loftwings through the skies, but a tornado comes out of nowhere, and sweeps Zelda to a land below the realms of the sky. Link must set out to the land below to recover Zelda, and defeat any evil he many encounter.
Gameplay
[
edit
]
The Legend of Zelda: Skyward Sword functions like past 3D Zelda games, having Link explore large areas, and use a sword to defeat enemies. Skyward Sword's main innovation in this regard is how it utilizes Wii MotionPlus to allow Link to swing his sword in very precise movements, mimicking the player exactly, who is swinging the Wii Remote as they would want Link to control his sword.

External links
[
edit
]
| | |
| --- | --- |
| | This article is a stub. You can help NintendoWiki by expanding it. |