Site Notice
Please check our Coverage page to see what deserves an article and what doesn't.
Be sure to join the discussions going on our board.
Four Player Adapter
Jump to navigation
Jump to search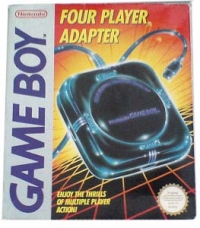 The Game Boy Four Player Adapter (Japanese: ゲームボーイ 4 Player Adapter) (DMG-07) is an accessory for the Game Boy. It is a short-lived adaption of the Game Link Cable.
It is a hub in which the user can attach multiple link cables for gameplay with up to four players.
Only a very small number of games supported it. Of the Nintendo published games, these included the following: