Nintendo 3DS Circle Pad Pro
From NintendoWiki, your source on Nintendo Information. By Fans, For Fans.
Nintendo 3DS Circle Pad Pro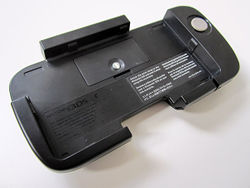 A photograph of the Nintendo 3DS Circle Pad Pro.
Release year

2012

Manufactured by
For use with
Model no.

Normal: CTR-009
XL: SPR-009
The Nintendo 3DS Circle Pad Pro (named the the Slide Pad Expansion in Japan) is an accessory for the Nintendo 3DS that gives the system a full second circle pad and two additional digital trigger buttons (ZL and ZR) as well as a second R button, since the system's R button would be unreachable due to the cradle. It connects to the system using an infrared transceiver positioned over the system's own built-in receiver, allowing the system to wirelessly accept inputs. The device was released on December 11, 2011 in Japan, (coinciding with the release of Monster Hunter 3G, the first game to make use of the peripheral), January 27, 2012 in Europe, February 2, 2012 in Australia, and February 7, 2012 in North America (in all three regions coinciding with their respective release of Resident Evil: Revelations). The accessory is designed to fit around the system like a cradle, and is shaped to give it the feel of a standard console controller. The Circle Pad Pro requires one AAA battery for power, and is estimated to have a battery life of approximately 480 hours.[1] The device also comes with slot for a wrist strap, one of which comes packaged with the device.
A Nintendo 3DS XL version of this add-on, the Nintendo 3DS XL Circle Pad Pro, was later released following the release of the system, on November 15, 2012 in Japan, March 22, 2013 in Europe, and on April 17, 2013 in North America. The Nintendo 2DS does not have a version of this accessory, nor does it support either of the existing Circle Pad Pro accessories due to the different design. In North America, the Nintendo 3DS XL Circle Pad Pro was released exclusively on Nintendo's online store.
As the New Nintendo 3DS and New Nintendo 3DS XL feature a C-stick and ZL and ZR buttons built onto the hardware, they do not support either version of the Circle Pad Pro accessories while still supporting Circle Pad Pro features in compatible games.
Compatible games published by Nintendo
References

| | |
| --- | --- |
| Games | |
| Pre-loaded software / other | |