Site Notice
Please check our Coverage page to see what deserves an article and what doesn't.
Please no leaked content less than one year old, or videos of leaks.
Adventures of Lolo
Jump to navigation
Jump to search
This article is about the Nintendo Entertainment System game. For information about the Famicom release game known as Adventures of Lolo in some Japan, see Adventures of Lolo 2.
Adventures of Lolo
N/A
N/A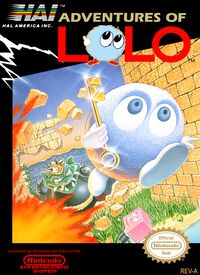 US box art (NES)
Adventures of Lolo
ロロの大冒険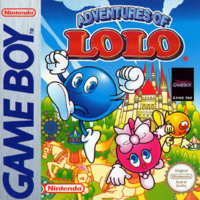 EU box art (Game Boy)
N. America:
Nintendo Entertainment System: April 20, 1989

Japan:
Game Boy: March 25, 1994
Europe:
Nintendo Entertainment System: December 1, 1993
Game Boy: 1995
Adventures of Lolo is a Nintendo Entertainment System game released in 1989 and the first installment of the Eggerland series released in the West, it notably wasn't released in Japan. The characters bare a striking resemblance to Lololo & Lalala, who also push boxes.
A later Game Boy version also known as Adventures of Lolo was released in 1994 (Japan) and 1995 (Europe).[1]
Prince Lolo of Gentryland visited Eden, a country of Love and Peace, and enjoyed many pleasant days with Princess Lala of Eden. But one day, Egger, the King of Darkness, who had an evil plot to conquer Eden, spirited the Princess away before Lolo's eyes. After a long and difficult journey, Lolo has come to the evil Castle of the Labyrinth. The castle is guarded by an army of evil monsters led by Egger, the King of Darkness. Can Lolo solve the seemingly endless series of mazes and save Lala? Lolo is not gifted with strength or agility, but has great courage and patience. Now the battle of wits begins. Good luck, Lolo!
The Great Devil was destroying Eden, to save it, Lala was sent by the King to seek help, Lolo came with her. When returning home, the Great Devil kidnapped Lala In order to save Eden and rescue Lala, Lolo travels to the Great Devil's castle and must solve his mazes.
Gameplay
[
edit
]
Lolo can move around, push objects and shoot at enemies to encase them in an egg he can push. Lolo must collect all of the hearts in the level to open the chest, doing so opens the door, which allows you to move on to the next level.
Technical details
[
edit
]
Other Releases
[
edit
]
Title
Box art
Platform
Release date(s)
Notes
Adventures of Lolo
Wii (VC)
NA: August 6th, 2007
EU: June 5th, 2007
AU: June 8th, 2007
JP: June 8th, 2007
KR: February 10th, 2009




Adventures of Lolo
Wii U (VC)
NA: May 15th, 2014
EU: August 21th, 2014
AU: August 21th, 2014




Adventures of Lolo
Nintendo 3DS (VC)
NA: January 8th, 2015
EU: October 16th, 2015
AU: October 16th, 2015




Adventures of Lolo
Nintendo Switch (Nintendo Switch Online)
NA: December 12th, 2018
EU: December 12th, 2018
AU: December 12th, 2018
KR: April 12th, 2019



References
[
edit
]
| | |
| --- | --- |
| | This article is a stub. You can help NintendoWiki by expanding it. |