Site Notice
Please check our Coverage page to see what deserves an article and what doesn't.
Please no leaked content less than one year old, or videos of leaks.
Densetsu no Starfy 2
Jump to navigation
Jump to search
Densetsu no Starfy 2
伝説のスタフィー2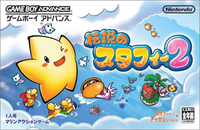 Boxart of Densetsu no Starfy 2
| | |
| --- | --- |
| N. America: | N/A |
| Japan: | September 5, 2003 |
| Europe: | N/A |
| Australia: | N/A |
| S. Korea: | N/A |
| China: | Cancelled |
Densetsu no Starfy 2 is the second game in The Legendary Starfy series. It is a sequel to Densetsu no Starfy.
When times at the Pufftop Palace seemed peaceful, Ogura escaped from the Jar with the help of ten children he created called the Puchi Ogura, who could get out of the Jar because they were small. Ogura requested the Puchi Ogura to cause a storm, so they agreed and the storm caused the Jar to fall over and release Ogura.
Ogura decides to kidnap the queen Mama Star and flies away with her. Starfy, crying, runs off to rescue her. Moe clings on to Starfy, thinking it would take too much effort to return to Pufftop but Starfy resists and they both fall into the ocean.
On his new adventure, Starfy must advance through eleven different stages with Moe, helping different characters and battling the Puchi Ogura, who mainly team up with other bosses with the exception of Puchi Ogura #4 and #10 on the way. Starfy's ultimate goal is to confront Ogura and rescue Mama Star.
External links
[
edit
]