Site Notice
Please check our Coverage page to see what deserves an article and what doesn't.
Please welcome our first Editor-in-Chief, Toa 95! Congratulations!
Please no leaked content less than one year old, or videos of leaks.
Inazuma Eleven GO
Jump to navigation
Jump to search
Inazuma Eleven GO: Light
イナズマイレブンGO シャイン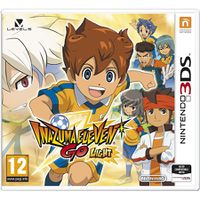 European boxart of Inazuma Eleven GO: Light
Inazuma Eleven GO: Shadow
イナズマイレブンGO ダーク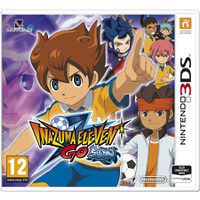 European boxart of Inazuma Eleven GO: Shadow
| | |
| --- | --- |
| Japan: | December 15, 2011 |
| Europe: | June 13, 2014 |
Inazuma Eleven GO is a group of two entries in the Inazuma Eleven series of soccer RPG video games, released for the Nintendo 3DS in Japan and Europe. The game came in two different versions, Light and Shadow. This was the series' debut on the Nintendo 3DS in Japan, and makes full use of 3D visuals and upgraded sound. The difference in versions include a different wife for Mark Evans, and two side-stories focusing on different characters in each.
The Inazuma Eleven GO anime follows the events of these games. The duo of games begins the Inazuma Eleven GO trilogy.
Inazuma Eleven GO: Light Blurb

[

edit

]
Inazuma Eleven GO: Shadow Blurb

[

edit

]
10 years have passed since Inazuma National won the Football Frontier International, and the legacy left by Mark Evans' team led to a vast increase in soccer's popularity. Raimon's school is now one of the best in Japan due to its well-known football team, but the influence of soccer led to schools with poorer soccer teams failing to receive funding. Fifth Sector was established to mediate this issue, but they do so by rigging the outcome of all high-school soccer matches! Freshman Arion Sherwind joins the legendary Raimon team to take down Fifth Sector, and restore the good name of football, on the path to winning Holy Road, a tournament that is against Raimon every step of the way!
Gameplay
[
edit
]
Arion and five friends can explore the overworld, being controlled by the Circle Pad, D-Pad or Touch Screen, chatting with other characters. In soccer matches, the player can command players to run to any specific location, and can make them attempt to score goals by tapping the goal when within a certain distance, and choosing the type and strength of the shot. New to Inazuma Eleven GO are "Fighting Spirits", which certain characters can unleash to highly increase their abilities, giving them access to new moves while being incredibly tough to stop without the use of another Fighting Spirit.
Technical details
[
edit
]
Media

Nintendo 3DS Game Card
Digital download

Supported features
Input / compatible controllers

Nintendo 3DS
External links
[
edit
]

| | |
| --- | --- |
| Original series | |
| GO series | |
| Strikers series | |