Site Notice
We have a limited coverage policy. Please check our coverage page to see which articles are allowed.
Please no leaked content less than one year old, or videos of leaks.
Content copied verbatim from other websites or wikis will be removed.
Game Card
Jump to navigation
Jump to search
The Game Card is the physical format used for games released on the Nintendo DS and Nintendo 3DS family of handheld systems, and the Nintendo Switch home console. Similar to the Game Paks used on previous Nintendo handheld systems and home consoles before the Nintendo GameCube, Game Cards are small, slim ROM cartridges manufactured by Macronix.
Functionality
Nintendo DS
Nintendo DS Game Cards are small, black cards used as the standard physical medium by all systems in the Nintendo DS family, and can also be played on Nintendo 3DS systems. These Game Cards can hold as little as eight megabytes of data, while the largest game cards produced have a capacity of up to 512 megabytes. According to certain developers, larger Nintendo DS Game Cards have a slower transfer rate than the smaller capacity cards.[1] Unlike the Game Paks on previous systems, which used battery backups for saving game data, most Game Cards use a type of flash memory or EEPROM to store data, though some games lack any form of saving.
Nintendo DSi
With the release of the Nintendo DSi, several developers began to release games on Nintendo DSi Enhanced Game Cards. While these game cards are similar to normal Nintendo DS Game Cards and can play on older models of the hardware, these games have exclusive features only accessible when playing on a Nintendo DSi system. In addition, while Nintendo DSi exclusive games were typically released for the DSiWare digital format, certain games were released on Nintendo DSi Game Cards, white Game Cards which are only compatible with Nintendo DSi systems.[2] Both models of Game Card are also playable on Nintendo 3DS.
Certain Nintendo DS titles, such as Pokémon HeartGold and SoulSilver Versions and Pokémon Black and White Versions , use special Game Cards with infrared capabilities. While the Nintendo DS does not natively support infrared communications, a transceiver is built into the cartridge, which allows the system to communicate with peripherals such as the Pokéwalker as well as with other players. These Game Cards are a darker color than previously released ones.
Nintendo 3DS

Nintendo 3DS Game Cards are the physical format used by all Nintendo 3DS family systems. While they look similar to the Nintendo DS cards, they are white in color, similar to Nintendo DSi Game Cards, and have a small tab on the top right of the card, preventing them from being inserted into the previous generation systems. They can hold between one to eight gigabytes of data.[3]
While developers released games that take advantage of the improved New Nintendo 3DS hardware as well as titles exclusively for the system, only four games exclusively playable on the system have received physical releases: Xenoblade Chronicles 3D, Fire Emblem Warriors, Runbow Pocket: Deluxe Edition, and Minecraft: New Nintendo 3DS Edition. The Game Card is no different in design from previous ones, and while standard model systems will recognize the games, they cannot be played on them.

Nintendo Switch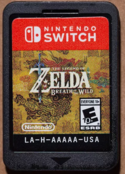 The Nintendo Switch is the first Nintendo home console to use the Game Card format (HAC-008), rather than the Game Disc format like previous Nintendo consoles.[4] Nintendo Switch Game Cards are non-rewriteable; save data and extra data is instead saved to the console.[5] Basic Game Cards can hold up to 16 GB of data.[5]
According to a Nintendo spokesperson, Nintendo Switch Game Cards are applied with denatonium benzoate, a non-toxic bittering agent, as a prevention measure against swallowing cartridges by accident.[6]

External links
References

| | |
| --- | --- |
| Games | |
| Pre-loaded software / other | |

| | |
| --- | --- |
| Controllers | |
| Add-on devices / other | |
| | |
| --- | --- |
| Games | |
| Pre-loaded software | |