Site Notice
Please check our Coverage page to see what deserves an article and what doesn't.
Please join in a discussion about our coverage.
Be sure to join the discussions going on the NIWA Wikis Discord Server.
Please no leaked content, however information from interviews and information data-mined from officially released products is allowed.
Pokémon Black and White Versions
Jump to navigation
Jump to search
Pokémon Black
and White Versions
ポケットモンスターブラック・ホワイト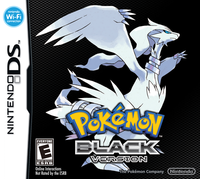 Boxart of Pokémon Black and White Versions
| | |
| --- | --- |
| N. America: | March 6, 2011 |
| Japan: | September 18, 2010 |
| Europe: | March 4, 2011 |
| Australia: | March 10, 2011 |
| S. Korea: | April 21, 2011 |
Pokémon Black Version (Japanese: ポケットモンスターブラック Pocket Monsters Black) and Pokémon White Version (Japanese: ポケットモンスターホワイト Pocket Monsters White) are the 18th and 19th main series Pokémon games released, beginning the fifth generation of the series.
Unlike past games, which took place in regions modeled based on areas of Japan, Black and White take place in the far-off land of Unova, based on New York City in the United States, and unlike Generation III and Generation IV games, which take place at the same time as Generation I and Generation II, respectively, take place after the events of Generation II and Generation IV.
Black and White begin much like most other main series Pokémon games. The player must choose their name and gender. They are then put in their house and their friends Bianca and Cheren come. A present is delivered containing the region's three starters, Tepig, Oshawott, and Snivy. Bianca will choose the starter whose type is weak to the player's, and Cheren always the one with a stronger type. The three battle, and the player's room is wrecked in the process.
Gameplay
[
edit
]
Related Games
[
edit
]
Related Games

imports information from
exports information to
exchanges information with
References
[
edit
]
External links
[
edit
]
| | |
| --- | --- |
| | This article is a stub. You can help NintendoWiki by expanding it. |