Site Notice
Please check our Coverage page to see what deserves an article and what doesn't.
Please join in a discussion about our coverage.
Be sure to join the discussions going on the NIWA Wikis Discord Server.
Please no leaked content, however information from interviews and information data-mined from officially released products is allowed.
Mobile Trainer
Jump to navigation
Jump to search
Mobile Trainer
モバイルトレーナー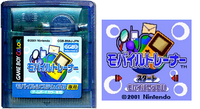 Cartridge and title screen
| | | |
| --- | --- | --- |
| Developer(s): | | MissingLink |
| Publisher(s): | | Nintendo |
| Platform: | | Game Boy Color |
| Category: | | Mobile GB Adapter configuration, email, web browser |
| Players: | | Online |
| Predecessor: | | N/A |
| Successor: | | N/A |
| Copyrights: | | ©2001 Nintendo |
Mobile Trainer is a Nintendo software for Game Boy Color. It was originally known as the Mobile Starter Cartridge, but had its name changed.
Gameplay
[
edit
]
A set-up application for the Mobile Game Boy Adapter. This cartridge allows for the player to configure their mobile phone data, receive news or send mail to other players. The Mobile GB Adapter must be connected for the title screen to load. The software can also be used to access a limited web browser, and has three hidden debug menus.
Graphics for Pokémon characters (Pikachu, Porygon2 and Tyranitar) have been found in the code, but their use is unknown.
Various test emails can be found in the code, some of which are Nintendo related:
(Credits to Háčky via TCRF and Divingkataetheweirdo, Torchickens (translation)):
Original Message
Translation

こんど、またあそぼう
マリオ
またあそぼうね
[email protected]

Let's play again next time
Mario
Let's play again.
[email protected]

7がつのさいしょのにちようびに、
やきゅうをするからこいよ
クッパだいおう
やきゅうやるぞ
[email protected]

On the first Sunday of July,
I'll come to you (while) playing baseball.
King Bowser
I'm playing baseball.
[email protected]

ついにポケモンのさいしんさくがとうじょうするぞ!
「ポケットモンスター苔」くわしくはにんてんどうのホームページへGO!
メールマガジンGB
GAMER's Life
[email protected]

At last, the new Pokémon are gonna be introduced!
For more on "Pokémon Moss", go to Nintendo's home page!
e-Mail Magazine GB
GAMER's Life
[email protected]

メールセンターのメンテナンスのため、
7/14~7/20までのきかん、メールをチェックできなくなります
あらかじめごりょうしょうください
GBセンター
だいじなおしらせ
[email protected]

Because of maintenance on the mail center,
please take note that you will not be able to check your mail
for a period, starting from July 14 and going until July 20.
GB Center
Important Notice
[email protected]
See also
[
edit
]
References
[
edit
]