Site Notice
We have a limited coverage policy. Please check our coverage page to see which articles are allowed.
Please no leaked content less than one year old, or videos of leaks.
Content copied verbatim from other websites or wikis will be removed.
Pokkén Tournament DX
Jump to navigation
Jump to search
Pokkén Tournament DX
ポッ拳 POKKÉN TOURNAMENT DX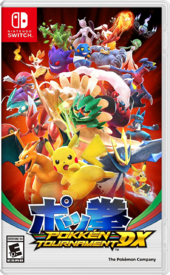 North American box art.
| | |
| --- | --- |
| Worldwide: | September 22, 2017[2] |
Pokkén Tournament DX is an enhanced Nintendo Switch port of the arcade and Wii U fighting game Pokkén Tournament, released in September 2017.[2]
Blurb
Box
---
EXPLOSIVE POKÉMON BATTLES!

Choose your favorite fighter from 21 Battle Pokémon!
Get help from Support Pokémon!

Many ways to test your skills!
Online 3-VS-3 Team Battles
Aim for Ferrum League competition!
Nintendo website (E3 2017)
---
Pokémon Battles that anyone can enjoy!

The popular Pokémon fighting game comes to the Nintendo Switch™ console with added Pokémon fighters and new ways to battle other players. Take direct control of one of over 20 prized Pokémon fighters to defeat other Pokémon in action-packed arena fights. With Nintendo Switch, you can battle at home or on the go to become the Ferrum League champion!

Master the new fighting styles of Croagunk, Scizor, Empoleon, Darkrai, and the newly added Decidueye. New modes give you the ability to challenge your friends in intense competition. Duke it out with your favorite Pokémon Fighters in Team Battle. Then record and upload your favorite fights with the new replay feature. Take the battle on the road with the portable Nintendo Switch system or find competition online in the new Group Match Mode. Do you have what it takes to claim the title of Pokkén Tournament DX champion? There's only one way to find out, and that's by stepping into the battle arena!

Features:

Fight as Decidueye, Darkrai , Scizor, Empoleon, Croagunk, and more
Execute powerful Pokémon moves with simple button combinations
Enjoy an intuitive fighting system for all skill levels
Nintendo eShop
---
Pokémon comes to Nintendo Switch

Introducing the first Pokémon title for the Nintendo Switch console. Take direct control of one of 21 prized Pokémon fighters to defeat other Pokémon in arena fights. Call upon Support Pokémon to assist in the fight, then unleash your Pokémon's unique Burst Attack to climb atop the ranks.

With all new modes and new ways to battle with friends, this is your chance to become champion of the Ferrum Region!
Gameplay
In addition to the main cast of the original game, Pokkén Tournament DX also includes playable characters previously exclusive to the arcade release, as well as a new exclusive character. Players can now play in 3-vs-3 team battles. New online modes include Ranked Matches in which players fight to increase their rank, and Friend and Group Matches exclusively between friends.[2]
Reception
| | |
| --- | --- |
| | This section is a stub. You can help NintendoWiki by expanding it. |
120,000 copies of Pokkén Tournamnet DX were shipped on launch week.[3] Out of this, the game sold 53,395 copies, less than the first week sales of the Wii U version of Pokkén Tournament while still being the best-selling game that week.[4][5]
Technical details
Media

Nintendo Switch Game Card
Digital download

Download size

3.7 GB

Supported features
Input / compatible controllers
Additional content
Updates
| Version no. | Release date(s) | Description |
| --- | --- | --- |
| 1.0.1 | September 21, 2017 | Gameplay adjustments. |
| 1.1.0 | November 14, 2017 | Adds online Team Battles, adds the ability to record movements in Free Training matches, adds Official Group Matches, allows players to change how battle records are displayed, adds Team Battles in Event Mode, character adjustments. |
Downloadable content
The Pokkén Tournament DX Battle Pack was announced during the Nintendo Direct mini on January 11, 2018.[7] The content will be released in two waves:
Wave 1 (January 31, 2018): Adds Aegislash as a playable character, Mega Rayquaza and Mimikyu as Support Pokémon, new avatar items and outfits, and new titles.
External links


Pokkén Tournament DX on other NIWA Wikis:
References