Site Notice
We have a limited coverage policy. Please check our coverage page to see which articles are allowed.
Please no leaked content less than one year old, or videos of leaks.
Content copied verbatim from other websites or wikis will be removed.
Detective Pikachu
Jump to navigation
Jump to search
Detective Pikachu
名探偵ピカチュウ ~新コンビ誕生~
Meitantei Pikachu ~ Shinkonbitanjō ~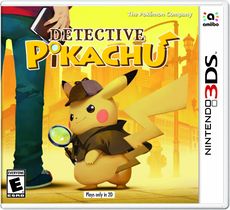 North American box art.
Worldwide:
March 23, 2018[1]
Japan:
Older version: February 3, 2016 (digital)
Expanded version (including retail): March 23, 2018[2]
Detective Pikachu is a spin-off game in the Pokémon series, to be released as a Nintendo eShop download title for Nintendo 3DS in February 2016 in Japan. Originally revealed in 2013 documentary at an early stage in development, the game was later re-revealed in January 2016 and released in February. Between January 27 and February 29, 2016, players could purchase the game for the discounted price of ¥1,200.
Detective Pikachu was later released as a retail game worldwide in March 2018, featuring all of the content of the original game with brand new content. A Detective Pikachu amiibo was also released alongside the retail game.
A sequel game has been announced to be released for Nintendo Switch.[3] A live-action film based on the game, titled Pokémon Detective Pikachu and produced by Legendary Entertainment, was released in May 2019.
Blurb
Nintendo website
---
Crack the case in this new detective adventure game by interacting with a unique, fully-voiced Pikachu!

As Tim Goodman, you'll partner with a self-proclaimed "great detective" Pikachu to solve strange occurrences all over Ryme City. Together you must investigate, take notes, and meet up with other Pokémon to unravel the city's greatest mysteries!

Tim is searching for his missing father in Ryme City, but instead encounters a witty, tough-talking Pikachu! Along the way, experience over 150 fun-filled animated cutscenes starring this unique Pikachu, providing helpful hints or talking up a storm. You can also tap the extra-large Detective Pikachu amiibo™ figure to access all cutscenes up until the current chapter played. As you investigate crime scenes, gather testimonies, uncover information, and interact with Pokémon to solve cases. You'll have to put your detective skills to the test to foil the mastermind behind the disturbances in Ryme City. All in a day's work for detective Pikachu!

Team up with self the pro-claimed "great detective" Pikachu!
Experience over 150 animated cutscenes of a fun, and witty talking Pikachu
Investigate the scene, take notes and crack the case!
Interact with various Pokémon throughout Ryme City
Alternative versions
Meitantei Pikachu: Shin Konbi Tanjou (Japanese: 名探偵ピカチュウ ~新コンビ誕生~ ), literally Detective Pikachu: Birth of a New Duo (stylised as Meitantei Pikachu ~Birth of a New Duo~) is a Japan-only predecessor to Detective Pikachu for Nintendo 3DS, released on February 3, 2016 two years prior to the release of the main game. Unlike the main game, this version is only available as a Nintendo eShop download and only features the first three chapters of the game. Following January 12, 2018 this version was removed from the Nintendo eShop.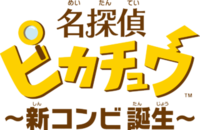 Story
Gameplay
Technical details
Media

Nintendo 3DS Game Card
Digital download

Download size

4,951 blocks[4]

Supported features
Input / compatible controllers

Nintendo 3DS
External links
References
| | |
| --- | --- |
| | This article is a stub. You can help NintendoWiki by expanding it. |