Site Notice
Please check our Coverage page to see what deserves an article and what doesn't.
Please join in a discussion about our coverage.
Be sure to join the discussions going on the NIWA Wikis Discord Server.
Please no leaked content, however information from interviews and information data-mined from officially released products is allowed.
Pokémon Ruby and Sapphire Versions
Jump to navigation
Jump to search
Pokémon Ruby version
ポケットモンスタールビー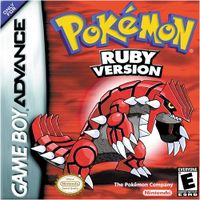 The boxart of Pokémon Ruby
Pokémon Sapphire Version
ポケットモンスターサファイア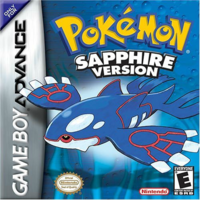 The boxart of Pokémon Sapphire
| | |
| --- | --- |
| N. America: | March 19, 2003 |
| Japan: | November 21, 2003 |
| Europe: | July 25, 2003 |
| Australia: | April 3, 2003 |
| S. Korea: | N/A |
Pokémon Ruby Version and Pokémon Sapphire Version are a pair of video games in the popular Pokémon franchise. The games were released on the Nintendo Game Boy Advance in 2003. The games were the start of the Third Generation of Pokémon. The games introduced the Hoenn region, and brought along many new Pokémon species, numbers 252 to 386.
"Immerse yourself in the beautiful region of Hoenn, a place of masterful heroes and mysterious teams, of friendship and battles. As the new kid in town, you set off your journey as a Pokémon Trainer. Who knows what wonders and dangers await you? Now it's time to grab your gear and head out on your own..."
Gameplay
[
edit
]
Related Games
[
edit
]
Release data
[
edit
]
The original Japanese version
The English, French, German, Italian, Spanish localizations; which fix a number of glitches such as, but not limited to: the Acro Bike land-surfing and Acro Bike game freezing/lag glitches caused by using the Acro Bike continuously in tall grass. Some censorship work was done, such as modification to the eyes of Hex Maniac's sprites to allude less to ghostly/demonic possession.
The v1.1 revision of the Japanese version, fixes an infamous Berry glitch causing daily events to be frozen after 365 days have elapsed.
The v1.1 revision of international versions fixes the Berry glitch but also various typos, text errors. This also includes a fix to a "save backup" error message being rendered incorrectly in the v1.0 revision where it would overlap the screen and corrupt the background and border of the text box.
The v1.2 revision of the international versions also fixes the Berry glitch, but other changes are unknown.
References
[
edit
]
External links
[
edit
]
| | |
| --- | --- |
| | This article is a stub. You can help NintendoWiki by expanding it. |