Site Notice
Please check our Coverage page to see what deserves an article and what doesn't.
Please join in a discussion about our coverage.
Be sure to join the discussions going on the NIWA Wikis Discord Server.
Please no leaked content, however information from interviews and information data-mined from officially released products is allowed.
Pokémotion
Jump to navigation
Jump to search
Pokemotion
ポケモーション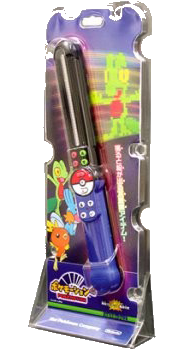 Packaging of the toy
| | |
| --- | --- |
| N. America: | Unknown |
| Japan: | August 1, 2003 |
| Europe: | Unknown |
| Australia: | Unknown |
| S. Korea: | Unknown |
The Pokémotion is a modern electronic Nintendo toy and quiz game themed around Pokémon Ruby and Sapphire Versions, and developed by Nintendo Network Service Development. It was lead by Shinya Kawada; who was a key developer of the Mobile System GB, Pokémon mini, Nintendo Power (cartridge service).
Using an afterimage illusion, players can project images and animations of Pokémon, symbols, katakana.