Site Notice
Please check our Coverage page to see what deserves an article and what doesn't.
Please join in a discussion about our coverage.
Be sure to join the discussions going on the NIWA Wikis Discord Server.
Please no leaked content, however information from interviews and information data-mined from officially released products is allowed.
Satoshi Tajiri: A Man Who Created Pokémon (manga)
Jump to navigation
Jump to search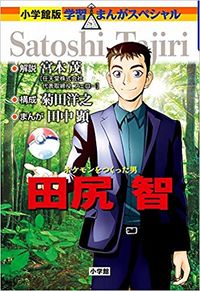 Satoshi Tajiri: A Man Who Created Pokémon (Japanese: ポケモンをつくった男 田尻智) is an official 2018 educational manga about Satoshi Tajiri as the creator of the Pokémon franchise, detailing the early history of the franchise.
The book is also known for covering a few previously undocumented unused Pokémon designs through inclusion within story frames, consisting of "Deer", "Crocky", "Barunda", "Cactus", "Jaggu", an unknown elephant, and "Gyaōn".
| | |
| --- | --- |
| | This article is a stub. You can help NintendoWiki by expanding it. |