Site Notice
Please check our Coverage page to see what deserves an article and what doesn't.
Please welcome our first Editor-in-Chief, Toa 95! Congratulations!
Please no leaked content less than one year old, or videos of leaks.
Kuru Kuru Kururin
Jump to navigation
Jump to search
Kuru Kuru Kururin
くるくるくるりん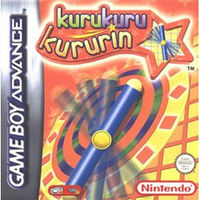 The box art of Kuru Kuru Kururin.
| | |
| --- | --- |
| N. America: | February 11, 2016 (VC) |
| Japan: | March 21, 2001 |
| Europe: | June 22, 2001 |
| Australia: | June 22, 2001 |
| | |
| --- | --- |
| ACB: | G |
| CERO: | A |
| ESRB: | E |
| PEGI: | 3 |
Kuru Kuru Kururin (stylized as kurukuru kururin) is a puzzle game and launch title for the Game Boy Advance in Europe and Japan. The game would later receive a North American release for the first time on the Wii U's Virtual Console service in 2016. The game would receive two sequels: Kururin Paradise, also for the Game Boy Advance, and Kururin Squash! for the Nintendo GameCube.
| | |
| --- | --- |
| | This section is a stub. You can help NintendoWiki by expanding it. |
At the beginning of the game, Kururin's siblings have gone missing. Piloting the Helirin helicopter, Kururin sets out to rescue his missing family.
Gameplay
[
edit
]
Players must navigate the constantly rotating Helirin through a series of mazes to the goal at the end. Players have three hit points, and getting hit causes the player to not only lose one heart of health but also add three seconds to the timer. Throughout each stage, however, are areas where the player's health is refilled. Each stage has a record time that can be cleared, and the player can earn a gold star for completing the level without getting hit. Each level also has a bonus spraypaint can or accessory that allows the player to customize the Helirin. The game also features an Easy mode, which makes the Helirin smaller, allowing players to more easily navigate stages.
In multiplayer mode, up to four players can race through levels. The game also features a challenge mode, in which the player can play through additional stages.
Technical details
[
edit
]
Other releases
[
edit
]
| Title | Boxart | Console | Release Date(s) | Notes |
| --- | --- | --- | --- | --- |
| Kuru Kuru Kururin | | Wii U (Virtual Console) | 2015/2016 | A port of the game released as a digital download on the Wii U Nintendo eShop, supporting emulator features. This version of the game does not support multiplayer. |
External links
[
edit
]