Site Notice
Please check our Coverage page to see what deserves an article and what doesn't.
Please help us discuss our proposed Editor-in-Chief position
Please no leaked content, however information from interviews and information data-mined from officially released products is allowed.
List of Nintendo arcade games
Jump to navigation
Jump to search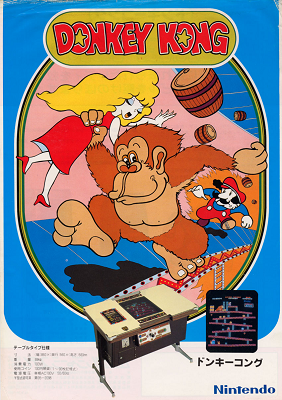 This article is a list of Nintendo franchise based arcade games.
This list is courtesy of (sources linked): NinDB, Super Mario Wiki, Bulbapedia, Arcade-History.com and has been combined/modified with new additions.
Early/mechanical/experimental
[
edit
]
Traditional/modern
[
edit
]
Notes: The Nintendo Vs. Systems have additional third party franchise entries which are not listed in this article (but are appear in the previous link's article), however could be argued to have been published by Nintendo. Curiously, VS. Raid on Bungeling Bay; Will Wright's inspiration for SimCity includes a Nintendo copyright notice on the title screen.
Pokémon puck series
[
edit
]
Pinball machines
[
edit
]
Reward machines (slot, medal, general prize, etc.)
[
edit
]
Other amusement machines
[
edit
]
Inspired by claw machines/UFO catchers/grabber machines
[
edit
]
References
[
edit
]