Site Notice
We have a limited coverage policy. Please check our coverage page to see which articles are allowed.
Please no leaked content less than one year old, or videos of leaks.
Content copied verbatim from other websites or wikis will be removed.
Marvel Ultimate Alliance 3: The Black Order
Jump to navigation
Jump to search
Marvel Ultimate Alliance 3: The Black Order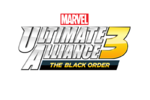 Game logo.
Marvel Ultimate Alliance 3: The Black Order is an action role-playing game and the third title in the Marvel Ultimate Alliance series. The game was developed by Team Ninja, and was released exclusively on Nintendo Switch on July 19, 2019.
Blurb
Nintendo website
---
The MARVEL ULTIMATE ALLIANCE series returns for the first time in 10 years—with a new action RPG—exclusively on the Nintendo Switch™ system!

Assemble your ultimate team of Marvel Super Heroes from a huge cast including the Avengers, the Guardians of the Galaxy, the X-Men, and more! Team up with friends to prevent galactic devastation at the hands of the mad cosmic tyrant Thanos and his ruthless warmasters, The Black Order.

In this new storyline, heroes and villains unite in a race across the Marvel Universe to find the Infinity Stones before Thanos and The Black Order use them to unleash cosmic chaos. From Avengers Tower to the X-Mansion and beyond, every stop on the dangerous quest to thwart Thanos results in unexpected collisions of fan-favorite characters and iconic locations. Get closer to the action by shifting the view to an over-the-shoulder "Heroic Camera" perspective—a series first that offers a more immersive way to play single-player or multiplayer on up to four systems. Play online*, offline via local wireless, or simply pass a Joy-Con controller to a friend, so they can join your team. With another pair of Joy-Con™ controllers (sold separately), four players can team up on one system! The drop-in/drop-out co-op possibilities let players create their own "Ultimate Alliance" at will.

Marvel Dream Teams – Assemble your dream team of Super Heroes from the Marvel Universe, each with their unique superpowers
New Heroes – The Guardians of the Galaxy, Falcon, Scarlet Witch and more join the "Ultimate Alliance" for the first time
Original Story – Super Heroes and Super Villains battle Thanos and The Black Order across the Marvel Universe in this new original story
Local and Online Multiplayer – The game can be played offline or online* with up to 4 players** on a single screen or using multiple systems
Heroic Camera – In addition to the series' traditional perspective, players can also select a dynamic, zoomed-in view, allowing for a more immersive play style for single-player or multiplayer when using multiple systems
Multiple ways to play – Play with the Joy-Con™ controllers or the Nintendo Switch Pro Controller (sold separately)
Story
The game features a variety of heroes teaming up to stop Thanos and his Black Order from obtaining the Infinity Stones.
Gameplay
Marvel Ultimate Alliance 3 is an action game that allows players to battle enemies as a variety of Marvel heroes. As characters level up, they will gain the ability to use new skills in combat. In addition to basic moves, each character also has their own "Alliance Extreme" attack.
The game features up to four player co-operative multiplayer, either local or online. Players can combine their attacks to create more powerful moves.
Technical details
External links