Site Notice
Please check our Coverage page to see what deserves an article and what doesn't.
Please welcome our first Editor-in-Chief, Toa 95! Congratulations!
Please no leaked content less than one year old, or videos of leaks.
Splatoon
Jump to navigation
Jump to search
Splatoon
スプラトゥーン
Supuratūn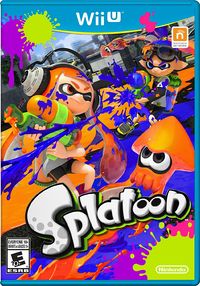 Boxart of Splatoon
| | |
| --- | --- |
| N. America: | May 29, 2015 |
| Japan: | May 28, 2015 |
| Europe: | May 29, 2015 |
| Australia: | May 30, 2015 |
Splatoon is an online-oriented third-person shooter, developed for the Wii U by Nintendo and released in 2015. The game mostly centers around the world of characters known as Inklings, who can turn from humanoids into squids, and their "turf wars", in which two teams of squids shoot ink to cover the most area.
Splatoon 2 would later be announced for Nintendo Switch, and was released in July 2017.
4 vs 4 online multiplayer!
Splatter enemies and claim your turf as ink-spraying, squid-like Inklings in Nintendo's ultimate messfest!
Transform into a squid!
Unleash new powers and abilities!
Single-player story mode!
Battle an evil octopus as you fight to save Inkopolis!
Local 1 on 1 duels!
Complete amiibo challenges to get exclusive in-game gear!
Nintendo website
[
edit
]
Show Your True Colors
Splatter enemies and claim your turf as the ink-spewing, squid-like characters called Inklings in Nintendo's new third-person action shooter game for the Wii U console. Challenge your friends in chaotic four-on-four matches, in which the goal is to get your ink on as many places as possible and claim your turf, all while strategically submerging yourself in your team's colors and blasting your enemies. This is a colorful and chaotic online third-person action shooter – exclusively on Wii U.
FEATURES:
Team up and take on other teams in an action-filled battle to cover the level with as much ink as possible. Spray walls to access hard-to-reach areas.
Covering more territory with ink unlocks powered-up super weapons that can be used to attack rivals or cover more turf.
Strategy is everything. Defeat enemies to splatter them in an explosion of ink, covering more turf for your team. But choose wisely: Players who only go after the enemy might find their turf redecorated in their enemies' colors.
Refill ink tanks, hide from opponents or move faster by turning into a squid and diving into the ink with the tap of a button.
Select between multiple control options on the Wii U GamePad controller, including using gyroscopic controls to look around, allowing for better aiming and control.
Hop online and battle in four-on-four matches.
Splatter enemies and claim your turf as ink-spraying, squid-like Inklings in Nintendo's ultimate messfest! Challenge players online in chaotic four-on-four turf wars, and unleash squid powers to ink your way to victory. May the best mess win.
Leave no territory unclean! In these all-out, online turf wars, you'll need ink blasters, ink rollers, ink bombs and squid power on your side! Every splat of ink you spray gives you a chance to transform into a squid and hide, climb walls, or travel at super speed. Rank up in online battles to unlock new weapons and fresh gear for your Inkling, complete with unique gameplay perks!
Or earn your stripes in the single player mode, where an evil octopus army as kidnapped the electric catfish used to power the city of Inkopolis! This underground adventure has octopi to splatter, ink puzzles to solve, and bosses to beat.
No time to blink–prepare to ink!

Upon starting the game, a news report states that Inkopolis's Great Zapfish, which powers the entire city, has been stolen. Upon entering Octo Valley, the game's story mode, the player meets Cap'n Cuttlefish, who reveals that an underground force known as the Octarians are the ones responsible for the theft as well as stealing several other Zapfish to power their underground domes and weapons. Recruiting the player and outfitting them with special armor, the player's goal is to save all the Zapfish and defeat the Octarian army.
Gameplay
[
edit
]
Splatoon's main gameplay is oriented around online multiplayer, in which eight players are grouped into two teams of four and compete to cover the ground with their team's color of ink. During gameplay, players can shoot ink in their human forms, and can turn into squids in order to move faster by swimming through their own ink; trying to move through enemy ink slows them down. Each kit has three weapons: the main weapon, the sub-weapon, and a special weapon that can be used by charging up a meter.
Two main gameplay modes are available in online mode: Regular Battles and Ranked Battles. In Regular Battles, teams must cover the most ground with their color of ink in a certain amount of time. In Ranked Battles, players start with the lowest rank and can increase their rank by winning matches, or decrease it by losing. Three modes are available for Ranked Battles: Splat Zones, in which players must cover a specific area and hold control of it while a timer counts down; Tower Control, in which players must stand on a tower in order for it to move toward a goal in the enemy territory; and Rainmaker, in which teams compete to carry the Rainmaker weapon to the goal point.
From Inkopolis Plaza, the game's main hub, players have the option to either go to Octo Valley, the single-player campaign in which the player must save Inkopolis's Great Zapfish from the Octarians; the Battle Dojo, a 1-on-1 local multiplayer mode which both players compete to pop the most balloons; and the Booyah Base, the series of shops in which players can purchase weapons and stat-changing equipment. Players can also access the amiibo box in the bottom corner to scan the Splatoon amiibo, allowing the player to play variants of the Octo Valley missions and earn exclusive equipment.
Technical details
[
edit
]
Updates
[
edit
]
| Version No. | Release Date | Description |
| --- | --- | --- |
| 1.2.0 | June 2, 2015 | Fixes framerate issues in Inkopolis Plaza; gameplay adjustments. |
| 1.3.0 | June 30, 2015 | Adjustments to the Splatfest mechanics, adjustments to abilities and special weapons, other gameplay adjusments. |
| 2.0.0 | August 5, 2015 | Adds new multiplayer modes, weapons, and gear; increases level cap to 50 and Ranked Battle cap to "S+". |
| 2.1.0 | September 1, 2015 | Stage adjustments, weapon adjustments, changes to Tower Control gameplay, fixes issue in which the game gives an error after downloading the version 2.0.0 update, general gameplay changes. |
| 2.2.0 | October 20, 2015 | Weapon adjustments, stage adjustments, changes to Ranked Battle game mechanics. |
| 2.3.0 | November 21, 2015 | Adds new gear, adjustments to Ranked Battle results screen, battle adjustments, general gameplay adjustments. |
| 2.4.0 | December 17, 2015 | Adjusts matchmaking in Ranked Battles and during Splatfests, adds prohibited areas to stages in Rainmaker mode, general stage adjustments, gameplay adjusments. |
| 2.5.0 | January 19, 2016 | Stage adjustments, bug fixes, gameplay adjustments. |
| 2.6.0 | March 8, 2016[1] | Rebalances gear abilities, adjusts Ranked Battle matchmaking, adjusts Splatfest mechanics. |
| 2.7.0 | April 13, 2016 | Adds new weapons, adjusts starting Splatfest Power for S+ rank players, weapon balance adjustments, stage adjustments, bug fixes. |
| 2.8.0 | June 7, 2016 | Adds new weapons, weapon balance adjustments, bug fixes. |
| 2.9.0 | July 5, 2016 | Adds support for the Callie and Marie amiibo, weapon balance adjustments, stage adjustments, bug fixes, gameplay adjustments. |
| 2.10.0 | July 8, 2016 | Fixes a bug causing players to appear outside of the map in multiplayer matches. |
| 2.11.0 | August 2, 2016 | Fixes a bug causing Roller and Brush weapons to not register a direct hit with their ink fling attack, gameplay adjustments. |
| 2.12.0 | September 13, 2016 | Fixes a bug that causes Sprinklers to be placed inside the Tower Control tower, fixes a bug that causes players to move inside the starting platforms. |
External links
[
edit
]


Splatoon on other NIWA Wikis:
References
[
edit
]