Site Notice
We have a limited coverage policy. Please check our coverage page to see which articles are allowed.
Please no leaked content less than one year old, or videos of leaks.
Content copied verbatim from other websites or wikis will be removed.
Super Smash Bros. (game)
Jump to navigation
Jump to search
This article is about the game. For information about the series, see Super Smash Bros..
Super Smash Bros.
ニンテンドウオールスター! 大乱闘スマッシュブラザーズ
Nintendō Ōru Sutā! Dairantō Sumasshu Burazāzu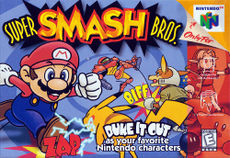 Boxart for Super Smash Bros.
| | |
| --- | --- |
| N. America: | April 26, 1999 |
| Japan: | January 21, 1999 |
| Europe: | November 19, 1999 |
| Australia: | 2000 |
Super Smash Bros. is a 2.5D fighting video game released for the Nintendo 64. It was released in Japan on January 21, 1999, and in North America on April 26 of that same year. Originally developed as an original game titled "Dragon King: The Fighting Game", it was later reworked into a Nintendo crossover game.
Blurb
Box
It's a Bumpin', Bruisin', Brawlin' Bash!
The many worlds of Nintendo collide in the ultimate showdown of strength and skill! Up to four players can choose their favorite characters - complete with signature attacks - and go at it in Team Battles and Free-For-Alls. Or venture out on your own to conquer the 14 stages in single-player mode. Either way, Super Smash Bros. is a no-holds-barred action-fest that will keep you coming back for more!
Plunge headlong into battle with your favorite Nintendo characters: Mario, Link, Donkey Kong, Pikachu, Samus, Yoshi, Kirby, and Fox...plus 4 hidden characters!
Characters use their very own trademark attacks, such as Mario's fireballs and Link's sword.
Grab a Fire Flower or a Poké Ball and send your opponent sailing out of the arena.
Compete in 8 different settings, each from a character's home world, and each with its own dangers.
Choose from an all-star cast of Nintendo characters in a frantic melee to prove who will be the ultimate brawler. Utilize the easy to learn, but hard to master controls to battle it out in the single-player mode, earning point bonuses and unlocking hidden characters along the way, or enter VS Mode to take on up to three other players simultaneously. Inflict damage using each character's unique set of special moves or familiar items and power-ups, eventually winning by knocking your opponents off the screen in one of the interactive stages, each with a Nintendo theme. Need a moment to catch your breath? Polish your skills in Training Mode or destroy targets in Bonus Stages specific to each character. Are you ready to test your mettle against all comers, including the powerful Master Hand?
Gameplay
Super Smash Bros. is designed to be a simple yet complex fighting game, and as such is radically different from most traditional fighting games. While most games allow for only two players in one-on-one battles on flat stages, Super Smash Bros. uses larger, more varied stages with a variety of gimmicks based on various Nintendo games, where up to four players can fight simultaneously. The goal of fights in Super Smash Bros. is to knock the opponent off the stage; characters have a damage percentage instead of a more traditional health bar, and the character takes more damage the percentage increases, meaning that attacks are more likely to launch them out of the arena. Players can also use an assortment of items to their advantage in battles. Attack inputs are variants of pressing the control stick in one of four directions and either A for normal attacks or B for special attacks, rather than the button sequences of other games; characters also have grab, shield, and jump inputs. When playing matches, players can either play alone or in teams, as well as set whether the match is time-based (the player with the most KOs by the end wins) or stock-based (with a set number of lives, the last player remaining is the winner).
In addition to the multiplayer, Super Smash Bros. also has single-player modes. These include Break the Targets and Board the Platforms, in which players must attack all of the targets and board every platform respectively on character-specific stages; Training, which allows players to practice with any of the playable characters; and 1P Game, in which players go through a series of stages defeating opponents to reach the end.
Technical details
Other releases
Title
Cover art
Platform
Release date(s)
Notes
Super Smash Bros.
Nintendo 64 (Player's Choice)
NA: December 26, 2000
A reprinting of the original game under the "Player's Choice" banner.
Super Smash Bros.
Wii (Virtual Console)
NA: December 21, 2009
JP: January 20, 2009
PAL: June 12, 2009
A direct port of the original game, which now controls more similarly to subsequent entries in the series.
External links


Super Smash Bros. on other NIWA Wikis: