Site Notice
Please check our Coverage page to see what deserves an article and what doesn't.
Please no leaked content less than one year old, or videos of leaks.
Kirby's Adventure
Jump to navigation
Jump to search
This article is about the Nintendo Entertainment System game. For information about the Wii game known as Kirby's Adventure Wii in some regions, see Kirby's Return to Dream Land.
Kirby's Adventure
星のカービィ 夢の泉の物語
Kirby of the Stars: Story of the Fountain of Dreams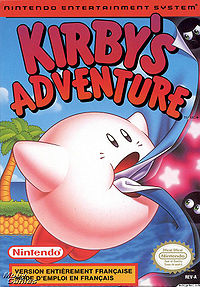 French box art
| | |
| --- | --- |
| N. America: | May 1, 1993 |
| Japan: | March 26, 1993 |
| Europe: | December 1, 1993 |
| Australia: | December 1, 1993 |
Kirby's Adventure is a Nintendo Entertainment System game released in 1993 and the second installment of the Kirby series. It is notable for establishing Kirby's ability to copy his enemies' powers, which went on to become a staple of most later Kirby games. In 2002, the game was remade for the Game Boy Advance as Kirby: Nightmare in Dream Land.
Kirby's Back in Power-Puffing Action!
What would Dream Land be without dreams? A Nightmare! The Dream Spring, source of all dreams, has dried up, taking with it all the blissful dreams of Dream Land. It's up to Kirby, the bombastic blimp, to return happy naps to the inhabitants of Dream Land!
Kirby's appetite for adventure is big as ever as he eats his way through a feast of all new enemies! In this adventure, he can also steal the abilities of the bad guys he scarfs down! With this new power, Kirby can perform 20 new tricks that will help him make his way through the nightmare infested Dream Land!
Kirby's Adventure features brand new worlds to explore with the same fun, action packed feel that made Kirby's Dream Land™ for Game Boy® a hit!"
Kirby, after realising he hasn't dreamt all night, heads to the Fountain of Dreams to find King Dedede has stolen the Star Rod and broken it into 7 pieces, which Kirby must collect to restore peace to Dream Land.
Gameplay
[
edit
]
Just like in the previous game, Kirby's Dream Land. The game is a 2D Platformer where you control Kirby with the ability to float and eat enemies. For the first time Kirby can use copy abilities, of which there are 24.
Technical details
[
edit
]
Other Releases
[
edit
]
Title
Box art
Platform
Release date(s)
Notes
Kirby's Adventure
Wii (VC)
NA: February 12th, 2007
EU: February 15th, 2007
AU: February 16th, 2007
JP: February 27th, 2007
KR: April 26th, 2008




3D Classics: Kirby's Adventure
Nintendo 3DS (3D Classics)
NA: November 17th, 2011
EU: November 17th, 2011
AU: November 17th, 2011
JP: April 25th, 2012




Kirby's Adventure
Wii U (VC)
NA: April 17th, 2013
EU: April 18th, 2013
AU: April 18th, 2013
JP: April 27th, 2013




Kirby's Adventure
Nintendo Switch (Nintendo Switch Online)
JP: February 19th, 2019
NA: February 19th, 2019
EU: February 19th, 2019
AU: February 19th, 2019
KR: April 3rd, 2019



Related Games
[
edit
]
References
[
edit
]
External Links
[
edit
]
| | |
| --- | --- |
| | This article is a stub. You can help NintendoWiki by expanding it. |