Site Notice
We have a limited coverage policy. Please check our coverage page to see which articles are allowed.
Please no leaked content less than one year old, or videos of leaks.
Content copied verbatim from other websites or wikis will be removed.
Kirby and the Rainbow Curse
Jump to navigation
Jump to search
Kirby and the Rainbow Curse
タッチ!カービィ スーパーレインボー
Tatchi! Kābī Sūpāreinbō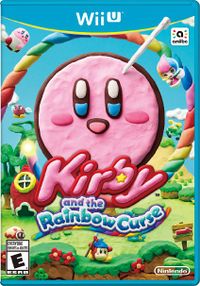 Cover artwork of Kirby and the Rainbow Curse
| | |
| --- | --- |
| N. America: | February 20, 2015 |
| Japan: | January 22, 2015 |
| Europe: | May 8, 2015 |
| Australia: | May 9, 2015 |
Kirby and the Rainbow Curse, released in Europe as Kirby and the Rainbow Paintbrush, is a Wii U follow-up to the Nintendo DS title Kirby: Canvas Curse released in 2015 as part of the Kirby series. The game makes use of a clay-like art style for its visuals.
Blurb
| | |
| --- | --- |
| | This section is a stub. You can help NintendoWiki by expanding it. |
Box
Kirby's on a roll in this "clayful" adventure!
Draw rainbow ropes to guide him through colorful worlds!
Give Kirby™ fantastic power-ups with three different amiibo™!
One stylus, lots of ways to use it!
Draw & Roll
Tap & Dash
Collect Items
Protect Kirby
Up to four friends can play together!
Jump into the game at any time!
Kirby rolls out three transformations!
Story
While Kirby and a Waddle Dee are playing, a rift opens up over Dream Land which drains all the color from the world and freezes everybody in place. A paintbrush fairy named Elline then emerges from the portal and restores the color of Kirby and his companion, explaining that her friend Claycia suddenly became evil and took the color from Pop Star to create seven worlds in her home of Seventopia. Kirby, Elline, and Waddle Dee head through the portal to defeat Claycia and restore the color to Pop Star.
Gameplay
As a follow-up, the game uses a similar gameplay style to Kirby: Canvas Curse. Players control Kirby, who is constantly in a ball shape, with the Wii U GamePad, tapping him on the touch screen to move him and attack, and drawing paths for him to follow. Players have limited ink to draw, however, which is restored over time. Stars are scattered throughout the level, and collecting 100 allows players to use the Star Dash, which allows Kirby to charge through indestructible blocks and most enemies. While this game does not feature Copy Abilities, transformations are still available in the form of a tank, rocket, and submarine, all of which have their own methods of control. Throughout each stage are several treasure chests which contain figures, music tracks, and pages from Elline's diary.
Kirby and the Rainbow Curse supports multiplayer, allowing up to three additional players to play as Waddle Dees, which can move through the level and attack normally as well as carry Kirby. The game also supports amiibo, allowing players to tap the amiibo for Kirby characters to unlock unique power-ups. Finally, the game also features a challenge mode.
Technical details
External links