Site Notice
Please check our Coverage page to see what deserves an article and what doesn't.
Please no leaked content less than one year old, or videos of leaks.
Xenoblade Chronicles 2
Jump to navigation
Jump to search
Xenoblade Chronicles 2
Xenoblade2 (ゼノブレイド2)
Zenobureido 2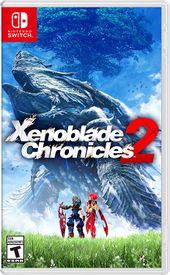 North American box art.
Worldwide:
December 1, 2017[1][2][3][4]
S. Korea:
Digital: April 3, 2018
Physical: September 3, 2020
© 2017 Nintendo / MONOLITHSOFT
Xenoblade Chronicles 2 is an action role-playing game released for Nintendo Switch in December 2017. The game is the third overall installment in Monolith Soft's Xenoblade Chronicles series, and the seventh game in the Xeno series. While not a direct sequel, the game is a follow-up in the same style as the original Xenoblade Chronicles.
A "Special Edition" version of the game was also released, which includes a soundtrack CD, hardcover artbook, and metal game case.[1]
Box
---
Onward, to Elysium!

Alrest–a world in which massive creatures called Titans drift through a boundless sea of clouds. In such a world, people have made their homes on the backs of these Titans. Join Rex, a young man who becomes the Driver of Pyra, a mysterious life form and his Blade, as they embark on a quest to find the mythical paradise of Elysium.

World
Explore a world full of ancient Titans and terrifying beasts.

Battle
Harness the power of your Blade in combat.
Nintendo website
---
Search for the ultimate paradise, Elysium, with your companion, Pyra.

Explore an endless ocean of clouds, where the last remnants of civilization live on the backs of colossal beasts called Titans. Experience the story of Rex and his new friend, Pyra, a mysterious being known as a Blade who grants him tremendous power. Together, search for Pyra's long lost home Elysium, the ultimate paradise for all of humanity.

Features:

Explore colossal beasts called Titans, the homes of different civilizations, offering expansive regions to discover.
Form powerful bonds with Blades, unique beings granting tremendous power to their users, called Drivers.
Features a deep battle system that builds on triumphs of the Xenoblade Chronicles and Xenoblade Chronicles X games.
Nintendo eShop
---
Lead Rex, Pyra, and the world to refuge

Lost in a sea of clouds, entire civilizations rest on the backs of Titans. As the giant beasts march toward death, the last hope is a scavenger named Rex–and Pyra, a living weapon known as a Blade. Can you find the fabled paradise she calls home? Command a group of Blades and lead them to countless strategic victories before the world ends. Each Titan hosts its own distinct cultures, wildlife, and diverse regions to explore. Search the vast open areas and labyrinthine corridors for treasure, secret paths, and creatures to battle and index.

During the escapades you'll get to know a large cast of eclectic characters, including the weaponized life forms known as Blades. Gather these allies, bond with them to increase their power, and utilize their special ARTS to devastate enemies. But to save the world of Alrest, you must first demystify its cloudy past.
Xenoblade Chronicles 2 is set on the world of Alrest, covered by a sea of clouds. According to legend, the World Tree at the center of the world is said to house a paradise known as Elysium, where they lived with a divine being known as "The Architect". The people of Elysium were cast out of their home, so The Architect sent them giants known as Titans to live on.
The game stars a boy named Rex, a scavenger. When he comes across a girl who has been sealed away, he is suddenly killed by a man named Jin. The girl, Pyra, who is what is known as a "Blade", gives Rex half of her life force to bring him back to life. At Pyra's request, she and Rex set off on a quest to find Elysium.[6]
Gameplay
[
edit
]
Xenoblade Chronicles 2 uses a similar gameplay style to the previous installments, featuring players traveling across large, explorable environments.[7]
Battles are similar to how they are handled in the previous titles, with up to three characters battling enemies automatically and having access to Arts that deal extra damage. Each of the player's core party members is a Driver, which can be equipped with up to three separate Blades. Each Blade gives access to one of several weapon types that have their own arts, which are used by pressing the corresponding B/X/Y button, and the player can switch between Blades by using the D-pad buttons. By pressing A when the fourth Art slot's charge is filled, the player can use a special attack that deals more damage. Rather than having cooldown times on each Art before it can be used again, the use of Arts is instead replenished with auto-attacks.[8]
Development
[
edit
]
Nintendo announced Xenoblade Chronicles 2 during the Nintendo Switch Presentation 2017 event. Tetsuya Takahashi once again served as the game's director. The character designs for this installment were done by Masatsugu Saito.[9] Development began in late 2014, while Xenoblade Chronicles X was still in development, and was built using the same engine.[10] According to Takahashi, the game was titled Xenoblade Chronicles 2 as it was created with a similar focus on narrative as the original, as opposed to the focus on exploration with Xenoblade Chronicles X.[11]
The game's music was handled by Yasunori Mitsuda, ACE (Tomori Kudo and "CHiCO"), Kenji Hiramatsu, and Manami Kiyota, who had all previously worked on the original Xenoblade Chronicles.[9] Mitsuda was the lead composer for the game, writing all of the music.[12] Recording began by the end of March 2017[12], and involved over 300 musicians.[13] Audio mixing was finished on August 1, and overall music production was completed on August 10.[13] According to Mitsuda, the size of the Xenoblade Chronicles 2 soundtrack project file was over 1 terabyte (none of Mitsuda's previous projects had exceeded 500 gigabytes).[13]
Like the original title, localization for Xenoblade Chronicles 2 was largely handled by Nintendo of Europe.[14]
Reception
[
edit
]
| | |
| --- | --- |
| | This section is a stub. You can help NintendoWiki by expanding it. |
Reviews
Famitsu
35/40[15]
Xenoblade Chronicles 2 was given a total 35/40 (9/9/8/9) score in Famitsu.[15]
By the end of December 2017, the game had sold over 1.06 million copies worldwide.[16]
Technical details
[
edit
]
Media

Nintendo Switch Game Card
Digital download

Download size

13.0 GB

Supported features

Nintendo Switch Online (Save Data Cloud)

Input / compatible controllers
Additional content
[
edit
]
This article is incomplete.
You can help by filling in the missing information.
Updates
[
edit
]
| Version no. | Release date(s) | Description |
| --- | --- | --- |
| 1.1.0 | December 1, 2017 | Adds the "Events Theater", adds the option to toggle between Japanese and English voices, adds compatibility with first wave of items obtained from the Expansion Pass, balance adjustments, gameplay adjustments. |
| 1.1.1 | December 22, 2017[17] | Adds an easy mode for the "Tiger! Tiger!" minigame, pressing X causes the Skip Travel screen to open on the player's current location, adds an additional zoom level to the mini-map. |
| 1.2.0 | January 18, 2018 | Adds compatibility with the first wave of quests and second wave of items from the Expansion Pass, adjustments to quests to make them completable regardless of story progress, fixes a bug with Agate's quest that prevents quest progression, fixes an issue with Skill RAM causing their effects to not occur, allows players to skip voiced segments in menus with the A or B buttons. |
| 1.3.0 | March 1, 2018 | Adds compatibility with the fourth round of items from the Expansion Pass, adds New Game Plus, adds the ability to switch between Easy and Normal difficulties, adds an option to skip the summoning animation when bonding with a Blade, allows players to lock Blades so that they cannot be released, adds a sort option for certain menus, map icons appear on the mini map, partner AI will switch Blades without regard for Driver combos when facing enemies that aren't affected by them, issue fixes. |
| 1.3.1 | March 29, 2018 | Adds compatibility with the second round of quests from the Expansion Pass, adds an NPC to New Game Plus that restores money one time, difficulty adjustments to Chapter 10 bosses in New Game Plus, adds current and total number of Aux Cores, accessories, and Poppi parts to all menus, adds an option to the pause menu that displays info on the Expansion Pass, issue fixes. |
Downloadable content
[
edit
]
For regions outside of Japan, the game's Japanese voice audio was made available for download on the Nintendo eShop on launch day.[6]
An Expansion Pass for the game is also available to purchase, released on launch day, granting players access to five pieces of future downloadable content:
Helpful Items Pack (December 1, 2017) - Gives the player 50,000G, 3 Cream Orange Parathas, 10 Silver Cylinders, and 5 Common Core Crystals.
New quests pack (January 2018)[6]
New Rare Blade Pack (Spring 2018)[6]
New Challenge Mode Pack (Summer 2018)[6]
Brand new story content Pack (Fall 2018)[6]
The expansions include[18]:
Xenoblade Chronicles 2: Battle Challenge Mode Pack
Xenoblade Chronicles 2: New Quests Pack 1
Xenoblade Chronicles 2: New Quests Pack 2
Xenoblade Chronicles 2: New Quests Pack 3
Xenoblade Chronicles 2: New Quests Pack 4
Xenoblade Chronicles 2: Torna ~ The Golden Country
External links
[
edit
]


Xenoblade Chronicles 2 on other NIWA Wikis:
References
[
edit
]