Site Notice
Please check our Coverage page to see what deserves an article and what doesn't.
Please no leaked content less than one year old, or videos of leaks.
Light Telephone
Jump to navigation
Jump to search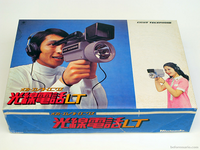 The Optoelectronics Kousen Denwa LT (Japanese: オプトエレクトロニクス 光線電話LT), also known as the (Nintendo) Light Telephone (LT) is a 1971 Nintendo toy produced by Gunpei Yokoi, and sold for 9800 yen. The box is 55 by 38 centimeters/13 centimeters high.
It requires 12 batteries, which came packaged with the toy. The toy also uses a light bulb which can be replaced if it stops working.
It is a telephone that uses light sensors to transmit sound (also known as a photophone). Accessories for it include the "filter caps" for limiting side light and "attachment hoods" for blocking sunlight. Using two headphones, users point at each other to talk. It can also be used through windows and mirrors.
| | |
| --- | --- |
| | This article is a stub. You can help NintendoWiki by expanding it. |