Site Notice
Please check our Coverage page to see what deserves an article and what doesn't.
Be sure to join the discussions going on our board.
Photos with Mario
Photos with Mario
いっしょにフォト スーパーマリオ
Issho ni Foto Sūpā Mario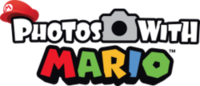 The logo of Photos with Mario.
| | |
| --- | --- |
| N. America: | May 28, 2014 |
| Japan: | April 23, 2013 |
| Europe: | November 4, 2015 |
Photos with Mario is a picture taking application for the Nintendo 3DS, released in 2013 in Japan, 2014 in North America, and 2015 in Europe. The game is the first of three games in this series, the others being Photos with Pikmin and Photos with Animal Crossing.
The game was released alongside a set of special Nintendo eShop Cards, which include exclusive AR Cards to use in the game, with two sets of cards being released overall. In Japan, the first set of cards (Goomba, Mario, and Peach) was released in April 2013, with the second set (Koopa Troopa, Luigi, and Bowser) being released in June; the three Nintendo eShop Cards in each set were released at different price points. In North America, the first set was released in May 2014, while the second set (each card being a retailer exclusive) was released in fall 2015, all at the $10 price point. Finally, in Europe, all six cards were released with the game.
Have fun with your favorite Mushroom Kingdom characters!
Use this free application to view the AR character card included with the "Photos with Mario" series of $10 Nintendo eShop Cards. Watch as they leap to life on your system's screen! Place different cards in one frame to see characters interact in fun ways. Move characters around to capture unexpected scenes, save the photos to your SD card, and share them with friends.
Find the Photos with Mario series of $10 Nintendo eShop Cards at select retailers. Choose from Mario™, Peach™, Goomba, Bowser™, Koopa Troopa, or Luigi™* version–or collect all six.
Gameplay
[
edit
]
By placing one of the special AR cards in front of the camera, the Super Mario character on the card will appear on the screen, allowing the player to take a picture. Placing another card causes another character to appear, and maybe interact with the characters; this also works with the ? AR Card. By pressing L, the player can move the characters on the screen by moving the system, allowing the player to take a picture without requiring the AR Cards. Pressing R takes a picture, while the face buttons set a delay. Using the circle pad and the D-pad allows the player to change the lighting and add various special effects, respectively.
Technical details
[
edit
]
| | |
| --- | --- |
| Media | Digital download (Nintendo 3DS) |
| Download size | 65 blocks |
| Supported features | Nintendo 3DS camera |
| Input / compatible controllers | Nintendo 3DS |
Although the official release date of this software was May 28, 2014, as shown on the Nintendo eShop, the game was released ten days early, displaying a release date of July 9, 1981, the arcade release date of Donkey Kong.
External links
[
edit
]