Site Notice
Please check our Coverage page to see what deserves an article and what doesn't.
Please join in a discussion about our coverage.
Be sure to join the discussions going on the NIWA Wikis Discord Server.
Please no leaked content, however information from interviews and information data-mined from officially released products is allowed.
Satoshi Tajiri
Jump to navigation
Jump to search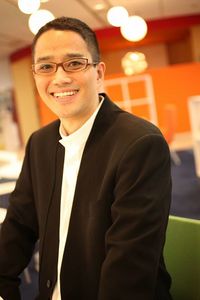 Satoshi Tajiri (Japanese: 田尻 智), is the creator of the Pokémon series (of which Game Freak/Nintendo/Creatures/The Pokémon Company own the copyrights to) and the founder of Game Freak. He was born on August 28, 1965.
Satoshi Tajiri has been a long-term video game fan, who would analyse arcade games such as Xevious and Dig-Dug and discuss them in his and Ken Sugimori's self-published Game Freak magazine.
Childhood
[
edit
]
Since an early age, Satoshi Tajiri was fascinated with collecting insects as well as media such as Godzilla, Ultraman (part of the kaiju sub-genre of Japanese tokusatsu 'special effects' films).
Due to Satoshi Tajiri's absence from school classes, it would lead to upset and confusion around his parents however, he would later earn a qualification in electronics and computer science at the Tokyo National College of Technology.[1]
As an inspiration for the title of the magazine, "Game Freak" was formally a pseudonym of Satoshi Tajiri that he would use when contributing to other video game publications.[2]
This interest would lead to the inception of the Pokémon series, originally in development as "Capsule Monsters" (a possible reference to the Kaiju Capsules in the Ultraman franchise). Satoshi Tajiri also wanted to make special use of the Game Link Cable, specifically as if physical things (and ultimately the creatures known as Pokémon) were being exchanged between two Game Boy systems.
Other works
[
edit
]
Game Freak magazine (self-published, author with Ken Sugimori)
Pac Land de Tsukamaete (author)
Shin Game Design (author)
Produced by Nintendo concerning Satoshi Tajiri
[
edit
]
References
[
edit
]