Site Notice
Please check our Coverage page to see what deserves an article and what doesn't.
Please join in a discussion about our coverage.
Be sure to join the discussions going on the NIWA Wikis Discord Server.
Please no leaked content, however information from interviews and information data-mined from officially released products is allowed.
Densetsu no Starfy
Jump to navigation
Jump to search
Densetsu no Starfy
伝説のスタフィー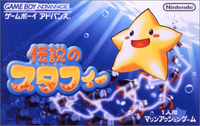 Boxart of Densetsu no Starfy
| | |
| --- | --- |
| N. America: | Cancelled |
| Japan: | September 6, 2002 |
| Europe: | N/A |
| Australia: | N/A |
| S. Korea: | N/A |
| China: | Cancelled |
The Legend of Starfy[1] (Densetsu no Starfy) is the first game in The Legendary Starfy series. Like Tomato Adventure, it was originally intended to be released for the Game Boy Color but development on the game had moved to the Game Boy Advance.
The normally peaceful kingdom of Pufftop was in trouble after Starfy accidentally dropped a Jar into the ocean while carrying valuable treasure. The being inside the Jar then used his powers to create a terrible storm which sent Starfy falling into the ocean. Starfy is then awoken by Old Man Lobber in his cave who advises that Starfy should rest a while in his cave from the storm.
Starfy's quest is to return back to Pufftop and find out the identity of the being inside the Jar and confront him. On his quest back to Pufftop, he must help others characters and fight bosses. In Coral Reef, Starfy becomes good friends with Moe the clam who joins him on his adventure.
Reception[edit]
The game scored 30 out of 40 points in Famitsu and sold 291,616 copies at the end of 2002.[2][3][4] An incomplete fan translation by Pablitox, Higsby, Jamie, Normmatt and Torchickens (Starfy Translation Team) exists.
External Links[edit]
References[edit]