Nintendo 3DS
From NintendoWiki, your source on Nintendo Information. By Fans, For Fans.

The Nintendo 3DS (Japanese: ニンテンド3DS Nintendo 3DS) is a portable console developed by Nintendo. It is the successor of the first 3 updates of the Nintendo DS. Like previous DS consoles, it features dual screens, with the lower screen being a touch screen. However, the top screen is able to produce "3D effects without glasses" via a process called autostereoscopy. The console with feature backwards compatiblity with the DS and DSi consoles. It was released on February 25, 2011 for Japan, March 27, 2011 for North America. It is also been confirmed to be backwards compatible with Nintendo DS games and Nintendo DSi software. It is confirmed to also have a Mii Studio, and a Virtual Console for Game Boy and Game Boy Color games.
Software
AR Games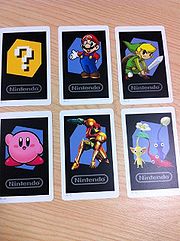 Augmented Realty Games (or AR Games for short) are games that use the AR cards and the 2 outer cameras to augment reality on your 3DS screen. You can then play a multitude of games such as archery and fishing. You can also use your play coins to purchase new games.
Virtual Console
Using the 3DS eShop you may purchase virtual console games such as exitebike or Kirby's dreamland, sort of like wii shop channel.
Nintendo eShop
The 3DS features its own video game and application download feature called the Nintendo eShop, which features games from the Game Boy, Game Boy Color, as well as 3D versions of "Classic Games", in addition to DSiware games.[1] The Nintendo eShop abandons the traditional Nintendo points system and instead use a cash-based system where people can either load money onto their 3DS directly with a credit card or through official cards bought in retail stores.[2]
List of Nintendo 3DS Versions
[3]

| Version Number | Date Released | Description |
| --- | --- | --- |
| 1.0.0-0U | System Default | Initial version included at the launch of the system. |
| 1.1.0-1U | March 24, 2011 | Improves stability of system. Music video White Knuckles by OK Go added (deleted on subsequent system update) |
| N/A | June 7, 2011 | Adds the 3DS Internet Browser, Nintendo eShop, Nintendo DSi to Nintendo 3DS content transfer, etc. |
References
External links
| | |
| --- | --- |
| | This article is a stub. You can help NintendoWiki by expanding it. |

| Color TV-Game | Arcade | Pokémon | Classics | Cancelled |
| --- | --- | --- | --- | --- |
| | | | | |