Site Notice
Please check our Coverage page to see what deserves an article and what doesn't.
Please join in a discussion about our coverage.
Be sure to join the discussions going on the NIWA Wikis Discord Server.
Please no leaked content, however information from interviews and information data-mined from officially released products is allowed.
Yoshiaki Koizumi
Jump to navigation
Jump to search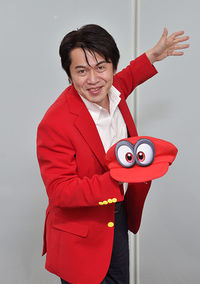 Yoshiaki Koizumi is a video game designer at Nintendo that was born in 1968. He study at the Osaka University of Arts looking to become a film director. After graduating, he found a position at Nintendo working on manual editing. His first game was The Legend of Zelda: A Link to the Past where he great expanded on the game's lore in the manual. His work on that game led him to be accepted as a script writer on the game's sequel, The Legend of Zelda: Link's Awakening.
His art skills also contributed to games in the Nintendo 64 era where he made major contributions to major Nintendo titles like Super Mario 64 and The Legend of Zelda: Ocarina of Time. He made his directorial debut in Super Mario Sunshine.
In the early 2000s when Nintendo was preparing to establish a Tokyo office for Nintendo Entertainment Analysis and Development Division, they selected Koizumi to lead it. He started this position with Donkey Kong Jungle Beat. As Nintendo EAD Tokyo grew, so did his position eventually becoming one of EAD's Deputy General Managers. With successes such as Super Mario Galaxy and Super Mario 3D Land behind him, Koizumi was selected to become the general producer of the Nintendo Switch.