Site Notice
We have a limited coverage policy. Please check our coverage page to see which articles are allowed.
Please no leaked content less than one year old, or videos of leaks.
Content copied verbatim from other websites or wikis will be removed.
Bayonetta (game)
Jump to navigation
Jump to search
Bayonetta
ベヨネッタ
Beyonetta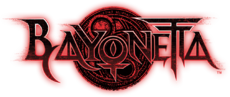 Game logo.
| | |
| --- | --- |
| N. America: | October 24, 2014[1] |
| Japan: | September 20, 2014[2] |
| Europe: | October 24, 2014[3] |
| Australia: | October 25, 2014[4] |
Bayonetta is an action hack-and-slash game developed by PlatinumGames. Originally published by Sega for the Xbox 360 and PlayStation 3 in 2009/2010, the game was later re-released and published by Nintendo for the Wii U alongside Bayonetta 2 in 2014. The game is available on the Wii U Nintendo eShop as an individual download; purchasing one of the two games also gives users a discount for the other. A disc version of the game was also included exclusively with first print physical versions of Bayonetta 2.
Blurb
Nintendo eShop (Wii U)
---
Bayonetta is a butt-kicking, havoc-wreaking witch, and she'll shoot, whip, slice, and burn angels as she uncovers the truth about her own past. Her weapons and moves are all stylishly over the top, but she can also dodge attacks to slow down time and inflict Torture Attacks on her enemies.

This is the prequel to the Bayonetta™ 2 game, and it's every bit as sassy, destructive, and epic as you'd expect.

Bayonetta is a fasionable and foxy unholy offspring of an Umbra With and a Lumen Sage, and she's lost her memory after being asleep at the bottom of a lake for 500 years.

Use Wicked Weaves to summon Infernal Deamons, dodge enemies' dangerous attacks to slow down time, and punish angels (they're so naughty!) with deadly devices.

You can even dress Bayonetta up in four Nintendo-themed costumes exclusive to Bayonetta on the Wii U: Princess Peach™, Daisy™, Link™, and Samus™.
Story
Gameplay
Technical details
Media

Wii U Game Disc
Digital download (Wii U, Nintendo Switch)

Download size

Wii U: 14.6 GB
Nintendo Switch: 8.5 GB

Supported features
Input / compatible controllers
Other releases
| Title | Cover art | Platform | Release date(s) | Notes |
| --- | --- | --- | --- | --- |
| Bayonetta | | Nintendo Switch | WW: February 16, 2018[5] | A direct port of the game released for Nintendo Switch. A download code for the game is packaged with physical copies of Bayonetta 2 for Nintendo Switch. |
External links


Bayonetta on other NIWA Wikis:
References
| | |
| --- | --- |
| | This article is a stub. You can help NintendoWiki by expanding it. |