Site Notice
Please check our Coverage page to see what deserves an article and what doesn't.
Please no leaked content less than one year old, or videos of leaks.
Bayonetta 2
Jump to navigation
Jump to search
Bayonetta 2
ベヨネッタ 2
Beyonetta Tsū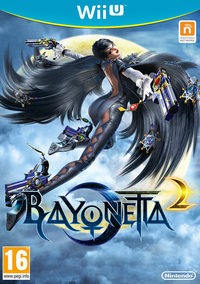 European box art of Bayonetta 2
N. America:
October 24, 2014[1]
February 19, 2016 (standalone)
Japan:
September 20, 2014[2]
Europe:
October 24, 2014[3]
Australia:
October 25, 2014[4]
This article is incomplete.
You can help by filling in the missing information.
Bayonetta 2 is a sequel to the original Bayonetta title, released in 2014 for the Wii U and 2018 for Nintendo Switch. The title was originally picked up by Nintendo as PlatinumGames searched for a partner to help create the game, while Sega, as the owner of Bayonetta, oversaw development.
First-print copies of Bayonetta 2 were packaged with an enhanced port of the original Bayonetta that also features additional content. In addition, both titles have been released individually on the Nintendo eShop, which gives players a discount on the other title if they purchase one of them.
Box
---
Angels and Demons Stand in Her Way.

Carry out exhilarating combos!
Punish enemies with elaborate summons!
Master new moves with Bayonetta's trademark style!
Utilize new weapons and skills in battle!
Parner up with a friend online!

Includes a disc of the original Bayonetta game, now on Wii U!
Nintendo website (Wii U)
---
The Witch is Back

The witching hour strikes again. Brimming with intricate battles that take place in, on and all over epic set pieces, Bayonetta 2 finds our sassy heroine battling angels and demons in unearthly beautiful HD. You're bound to love how it feels to string together combos with unimaginable weapons and to summon demons using Bayonetta's Wicked Weave in this frantic stylized action game. Bayonetta 2 is a Wii U exclusive. Bayonetta comes packed in with the purchase of every retail packaged version of Bayonetta 2. Nintendo eShop purchases of either Bayonetta or Bayonetta 2 will include an automatic discount on the other game.

Features:

Initiate the new Umbran Climax technique to temporarily summon demons and boost Bayonetta's attack power and range whenever you fill her magic gauge.
Fight with new over-the-top weapons that open new possibilities to the way you battle, including the Kafka, a bow that shoots poisonous arrows; the Rakshasa, a pair of beautiful katana blades; and a giant rifle-inspired scythe known as the Chernobog.
Team up with a friend in Tag Climax, a two-player online co-op mode. Enjoy a little friendly competition by trying to deal the most damage as you work together to take down angels and demons.
In online quick matches, you can wager halos, the in-game currency that you earn by defeating enemies. You receive a large sum back if you can prove you're a better fighter than your partner. Halos can then be traded in a story mode shop to unlock new techniques, buy accessories and pick up alternate weapon variations.
Every chapter ends with a medal ranking: Stone, Bronze, Silver, Gold, Platinum or Pure Platinum. The more skilled you are, the higher your ranking.
This game is approachable for players of all levels, with settings of three difficulty levels. Through Touch Play, you can play with the GamePad stylus and touch screen, regardless of which difficulty you choose.
Nintendo eShop
---
Bayonetta's back and more powerful than ever. Wield wild new weapons and execute deadly new moves–like the powerful Umbran Climax–to take out angels and demons in this breathtaking action game. You can even team up with friends in 2-player online co-op fights.

Bayonetta is a butt-kicking, havoc-wreaking witch who wields sweet wapons like pistols, whips, hammers, flamethrowers, and poison bows. But it's not just about brawn–it's also about style.

Bayonetta is deadly but sleek, with moves like Witch Time that slows down time itself, and the all-new Umbran Climax–a special magic attack that summons Infernal Demons to devastate enemies.

Bayonetta 2 also features an all-new online 2-player cooperative mode where players bet halos on their performance and work together to amplify their sass, cause destruction, and score some riches.
Gameplay
[
edit
]
Technical details
[
edit
]
Media

Wii U Game Disc
Nintendo Switch Game Card
Digital download (Wii U, Nintendo Switch)

Download size

Wii U: 17.5 GB
Nintendo Switch: 12.4 GB

Supported features

Nintendo Network (Miiverse, online co-op)

Input / compatible controllers
Other releases
[
edit
]
| Title | Cover art | Platform | Release date(s) | Notes |
| --- | --- | --- | --- | --- |
| Bayonetta 2 | | Nintendo Switch | WW: February 16, 2018[7] | A direct port of the game released for Nintendo Switch, with additional features such as amiibo support. Physical copies of the game are packaged with a download code for the original Bayonetta. |
External links
[
edit
]


Bayonetta 2 on other NIWA Wikis:
References
[
edit
]
| | |
| --- | --- |
| | This article is a stub. You can help NintendoWiki by expanding it. |