Site Notice
We have a limited coverage policy. Please check our coverage page to see which articles are allowed.
Please no leaked content less than one year old, or videos of leaks.
Content copied verbatim from other websites or wikis will be removed.
Mario Kart Live: Home Circuit
Jump to navigation
Jump to search
Mario Kart Live: Home Circuit
マリオカート ライブ ホームサーキット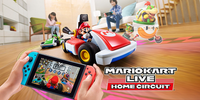 Key artwork.
Mario Kart Live: Home Circuit is a Nintendo Switch game in the Mario Kart series, revealed in a Nintendo Direct presentation celebrating the 35th anniversary of the Super Mario series. It is both a set of physical products (remote control toys) and a video game.
The product features physical karts combined with a camera at the back of the kart which live streams information to the Nintendo Switch, so that the action takes place in real life and in the video game at the same time. The background area is transmitted to the Nintendo Switch (as in an augmented reality).

References