Site Notice
We have a limited coverage policy. Please check our coverage page to see which articles are allowed.
Please no leaked content less than one year old, or videos of leaks.
Content copied verbatim from other websites or wikis will be removed.
Super Mario 64 DS
Jump to navigation
Jump to search
Super Mario 64 DS
スーパーマリオ64DS
Sūpā Mario Rokujūyon Dī Esu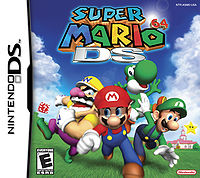 Cover artwork of Super Mario 64 DS
| | |
| --- | --- |
| N. America: | November 21, 2004 |
| Japan: | December 2, 2004 |
| Europe: | March 11, 2005 |
| Australia: | February 24, 2005 |
| S. Korea: | July 26, 2007 |
Super Mario 64 DS is a 3D platforming game and remake of the Nintendo 64 title Super Mario 64, released as a launch title for the Nintendo DS in 2004. In addition to enhanced graphics, The Nintendo DS port also features new playable characters in addition to new content.
Blurb
Nintendo DS
Box art
"Tap into a new world! Super Mario 64 has arrived for the Nintendo DS with all-new characters, courses, game modes, and challenges!
Play as Mario, Yoshi, Luigi, and even Wario. Each has a different set of moves essential for recovering all 150 Power Stars - 30 more than the original game.
Battle up to three friends in Wireless Versus mode as you run, jump, and punch each other in pursuit of Stars.
Try your hand (or stylus!) at tons of new touch-sensitive mini-games."
Wii U
Nintendo website
Play as four different Mushroom Kingdom characters, and recover all 150 Power Stars!
Mario, Luigi, and Wario set out for a party at Princess Peach's castle but arrive to find it empty except for Yoshi. They soon discover that Bowser has stolen the Power Stars and imprisoned the Toads. Enter all of the castle paintings, and save the day! Then try out some action-packed minigames!
Story
The story has seen some revision compared to the original, accounting for the additional characters. At the beginning of the game, Mario, Luigi, and Wario show up at Peach's Castle, as Princess Peach has baked a cake for Mario. However, once they go inside, they do not come out. Yoshi, who was sleeping outside the castle, is awakened by one of the Lakitu Bros. and is told about the situation. Once Yoshi enters the castle, he is told by Toad that the castle's Power Stars and the princess have been stolen by Bowser and hidden inside the castle's walls and paintings, and that the other heroes were likely captured as well. It is up to Yoshi to save the others, retrieve the Power Stars, and defeat Bowser
Gameplay
Super Mario 64 DS features three methods of control: Standard Mode which uses the D-pad to move and the buttons for actions, Touch Mode which uses the stylus and touch screen for movement, and Dual-Hand Mode which uses the stylus to move and either the D-pad (for left-handed players) or buttons (for right-handed players) to perform actions.
The game features four additional playable characters, who must be unlocked by defeating certain bosses. Each character has different stats and abilities from each other: While Mario has all-around stats, Yoshi fights by eating enemies and turning them into eggs to throw, Luigi jumps higher and runs faster but has less traction, and Wario is stronger but slower and cannot jump as high. Each character also has a unique power that can be used by collecting a Power Flower (in place of the caps of the Nintendo 64 version).
A set of extra minigames can be unlocked catching rabbits that are scattered around the castle, color-coded depending on the currently active character. These minigames can be played either in the game in the Rec Room, or from the main menu. The game also features a VS Mode, in which up to four players can play locally over Download Play and compete in four stages as a different-colored Yoshi to collect the most Power Stars and coins.
Technical details
Other releases
Title
Cover art
Platform
Release date(s)
Notes
Super Mario 64 DS
Wii U (Virtual Console)
NA: August 25, 2016
JP: January 6, 2016
EU/AUS: December 25, 2015
An emulated port of the original game, with added Virtual Console emulator features.
External links
| | |
| --- | --- |
| | This article is a stub. You can help NintendoWiki by expanding it. |