Site Notice
We have a limited coverage policy. Please check our coverage page to see which articles are allowed.
Please no leaked content less than one year old, or videos of leaks.
Content copied verbatim from other websites or wikis will be removed.
Mario Party 2
Jump to navigation
Jump to search
Mario Party 2
マリオパーティ 2
Mario Pāti 2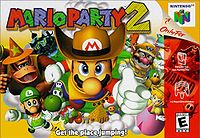 Cover artwork of Mario Party 2
| | |
| --- | --- |
| N. America: | January 24, 2000 |
| Japan: | December 17, 1999 |
| Europe: | October 12, 2000 |
| Australia: | November 6, 2000 |
Mario Party 2 is a party game for the Nintendo 64. It was released in 1999 in Japan and in 2000 in North America, Europe, and Australia. It is the second installment in the Mario Party series, a sub-series of the Super Mario franchise.
Blurb
Nintendo Website (Wii)
"Get ready to party like it's the year 2000 all over again, complete with fancy costumes, bags of surprises, and games galore! Mario and his Mushroom Kingdom friends return for a brand-new round of Bowser-bashing board game action in Mario Party 2. Each of your favorite characters don different themed outfits to take part in five fun-packed Adventure Boards: Pirate Land, Western Land, Space Land, Mystery Land, and Horror Land. Then battle Bowser on his own specific board...if you're brave enough.
Up to four players can play, traveling around the boards and competing in minigames for coins, while also using items to gain an advantage. Win the most stars and become the ultimate victor: the Super Star. Or, if you simply feel like proving your minigame mettle, visit Mini-Game Land to purchase and play minigames that you played during the game. Head to the Mini-Game Stadium and replay your favorites, including the Item, Battle, Duel, and Chance Time minigames!"
Story
One day, Mario, Luigi, Princess Peach, Wario, Yoshi, and Donkey Kong decide to create a new world. After doing so, they all agree to call it Mario Land, except Wario. He says that it should be called Wario Land instead. This causes an argument between all of them, with each person wanting the land to be named after themselves. Meanwhile, Bowser finds the land and begins to take it for himself. A Koopa, seeing Bowser's invasion, attempts to warn the group of it, but they do not hear him because they are fighting. Finally, Toad gets their attention by saying whoever can defeat Bowser will have the land be named after them. The group immediately runs off to defeat Bowser.
Gameplay
Mario Party 2's gameplay, like its predecessor, is based off of that of a board game in that players roll dice to move around a board in an effort to collect the most stars. The game features six boards. On each board are spaces which, if landed on, produce effects which may be positive or negative depending on the space. Also scattered throughout the board are item shops where players can buy items. These items can be used to aid the player in various ways. After each player has taken their turn, a minigame begins. There are sixty-five minigames total, each with varying objectives and gameplay. After a minigame is finished, the winner of the minigame is awarded ten coins, which can be used to purchase stars and items. Bowser also appears on the board. If a player lands on his space, a negative effect will happen to either that player or all the players. At the end of the game, whoever has the most stars wins. In the case of a tie, the player with the greater number of coins will win.
Game modes include a single-player story mode where the player competes against computers, a multi-player mode where players compete against each other, and Minigame Land, a mode where players can play various minigame-related modes.
Technical details
Other releases
Title
Cover art
Platform
Release date(s)
Notes
Mario Party 2
Nintendo 64 (Player's Choice)
NA/EU/AUS: ????
A re-release of the game as part of the Player's Choice line, sold at a reduced price.
Mario Party 2
Wii (Virtual Console)
NA: December 20, 2010
JP: November 2, 2010
EU/AUS: December 24, 2010
A port of the game released as a digital download on the Wii Shop Channel.
Mario Party 2
Wii U (Virtual Console)
NA: December 22, 2016
JP: March 30, 2016
EU/AUS: April 21, 2016
A port of the game released as a digital download on the Nintendo eShop for Wii U, with added Virtual Console emulator features.
Trivia
External Links
References