Site Notice
We have a limited coverage policy. Please check our coverage page to see which articles are allowed.
Please no leaked content less than one year old, or videos of leaks.
Content copied verbatim from other websites or wikis will be removed.
Mario Pinball Land
Jump to navigation
Jump to search
Mario Pinball Land
スーパーマリオボール
Sūpā Mario Bōru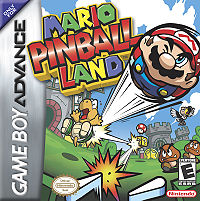 Cover artwork of Mario Pinball Land
| | |
| --- | --- |
| N. America: | October 4, 2004 |
| Japan: | August 26, 2004 |
| Europe: | November 26, 2004 |
| Australia: | November 26, 2004 |
Mario Pinball Land, also known in Europe and Japan as Super Mario Ball, is a video game released for the Game Boy Advance in 2004. It is a pinball game with a Super Mario theme that uses the titular hero, Mario, as the ball, making it similar in concept to games such as Kirby's Pinball Land.
Blurb
It's a Mario Adventure with a Spin!
What starts out as a fun day at the fair ends in disaster when Princess Peach gets flung far off into Bowser's Castle! In order to save her, Mario squishes himself into a ball and blasts across the Mushroom Kingdom. Now, he's ricocheting off Goombas and Koopa Troopas and collecting the magical Star Keys in a pinball adventure unlike any other!
Story
While Mario and Princess Peach are at the Fun Fair, a Toad demonstrates to them a machine that transforms the user into a ball and launches them from a cannon towards a target. When Peach tests the device, however, a pair of Goombas turn the cannon around, making it launch her straight into the evil Bowser's castle instead. Determined to rescue her, Mario steps into the machine as well, turning himself into a ball and setting out towards the Koopa King's castle.
Gameplay
External Links
| | |
| --- | --- |
| | This article is a stub. You can help NintendoWiki by expanding it. |