Site Notice
We have a limited coverage policy. Please check our coverage page to see which articles are allowed.
Please no leaked content less than one year old, or videos of leaks.
Content copied verbatim from other websites or wikis will be removed.
Mario Tennis Aces
Jump to navigation
Jump to search
Mario Tennis Aces
マリオテニス エース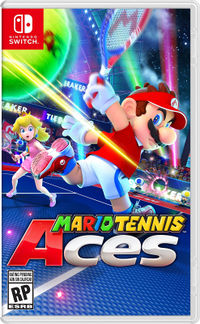 North American box art.
Mario Tennis Aces is a tennis video game and the eighth installment in the Mario Tennis series that was released for Nintendo Switch in 2018.
Blurb
Nintendo website
---
A new Mario Tennis game is bringing a new level of skill and competition to Nintendo Switch. Mario steps onto the court in classy tennis garb for intense rallies against a variety of characters in full-blown tennis battles. New wrinkles in tennis gameplay will challenge your ability to read an opponent's position and stroke to determine which shot will give you the advantage. And this time the game adds the first story mode since the Mario Tennis game on Game Boy Advance, offering a new flavor of tennis gameplay, with a variety of missions, boss battles and more.
Gameplay
The tennis is similar to previous Mario Tennis games, notably Mario Tennis Open and Mario Tennis: Ultra Smash.[1]
Mario Tennis Aces features a story mode, the first game in the series to do so since Mario Tennis: Power Tour, in which the player must complete various challenges on an island.[1]
Technical details
Media

Nintendo Switch Game Card
Digital download

Input / compatible controllers
Demo
The Mario Tennis Aces Pre-Launch Online Tournament was originally announced during the Nintendo Direct on March 8, 2018. The software for the demo was released on May 24, and ran from June 1 to June 3, 2018. The demo requires 394 MB of space to download.
The demo features four options for play. Online Tournament allows players to compete against others online in standard rules; players will be awarded points based on their performance in matches, and full rankings will be posted on the official website after the tournament is over. Players can also practice against computer players. Also available is the option to review the tutorial, and adjust various settings. Finally, the player can go to the full game's Nintendo eShop page to preorder and check out more information. Players can play as Mario, Peach, Yoshi, and Bowser by default, and can unlock the ability to play as Waluigi, Rosalina, Spike, Chain Chomp, and Toad by earning points. Participants in the online tournament will be given Mario's traditional outfit as a costume in the full game.
Blurb
Nintendo eShop
---
Become an online tournament mode champion

The Mario Tennis™ Aces game launches on June 22nd, but we're offering an early chance to polish your skills in the Pre-launch Online Tournament demo event featuring online tournament mode. Jump online and fight your way to the top of the in-game bracket in frenetic tennis matches. The more rivals you beat, the more points you will earn, which will unlock more playable characters in the demo. This event will only be active for the short time period between 6/1 and 6/3. By participating and keeping your save data, you can unlock Mario's classic outfit in the full version of the game, once purchased, so don't miss out!

To join, download the free demo from the Nintendo eShop, and then launch the demo anytime during this time period.

Event Times


6/1 (Fri) 6:00 p.m. PDT - 6/3 (Sun) 11:59 p.m. PDT
Gallery
External links


Mario Tennis Aces on other NIWA Wikis:
References
↑ 1.0 1.1 1.2 Nintendo Direct 3.8.2018. Nintendo (YouTube; March 8, 2018). Retrieved March 8, 2018.
↑ マリオテニス エース [Nintendo Direct 2018.3.9]. Nintendo 公式チャンネル (YouTube; March 8, 2018). Retrieved March 8, 2018.
↑ Nintendo Direct - 08.03.2018. Nintendo UK (YouTube; March 8, 2018). Retrieved March 8, 2018.
↑ "Up to 4 players can battle in online matches in #MarioTennis Aces, launching on #NintendoSwitch June 22! Online tournaments will be held often, with bonuses like special outfits & extra characters for those who take part. Pre-launch Online Tournament coming, too! #NintendoDirect" Nintendo AU NZ on Twitter (March 8, 2018. Retrieved March 8, 2018.