Site Notice
We have a limited coverage policy. Please check our coverage page to see which articles are allowed.
Please no leaked content less than one year old, or videos of leaks.
Content copied verbatim from other websites or wikis will be removed.
Mario & Luigi: Superstar Saga + Bowser's Minions
Jump to navigation
Jump to search
Mario & Luigi: Superstar Saga + Bowser's Minions
マリオ&ルイージRPG1 DX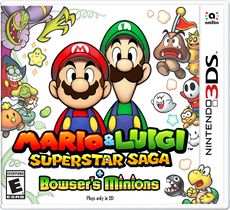 Cover artwork of Mario & Luigi: Superstar Saga + Bowser's Minions
| | |
| --- | --- |
| N. America: | October 6, 2017[1] |
| Japan: | October 5, 2017[2] |
| Europe: | October 6, 2017[3] |
| Australia: | October 7, 2017[4] |
Mario & Luigi: Superstar Saga + Bowser's Minions is a Nintendo 3DS remake of the original Mario & Luigi title, Mario & Luigi: Superstar Saga for Game Boy Advance. The game was released in October 2017.
The game was released alongside a new pair of Super Mario amiibo depicting a Goomba and Koopa Troopa
Blurb
Nintendo website (E3 2017)
---
Save Princess Peach's voice, the Beanbean Kingdom and ... Bowser?!

The game that launched the Mario & Luigi series returns looking better than ever before. In this renewed classic, Mario and Luigi journey to the Beanbean Kingdom with Bowser to restore Princess Peach's voice. Control Mario and Luigi simultaneously, making use of their unique Bros. Moves to solve puzzles and emerge victorious in action-packed battles. Pay heed to the enemy's patterns and time your reactions right to land satisfying counterblows. Included in this remake is the Minion Quest: The Search for Bowser mode, which tells the story of the game from the perspective of Bowser's minions. Recruit characters to grow your own Minion army as you fight to locate your missing leader!

Features:

Mario and Luigi have access to different techniques, known as Bros. Moves, necessary for solving puzzles on their adventure. Switch between the two characters at will to pave your way and progress through new areas.
Time your button presses to skillfully dodge enemy blows, land devastating counters, and inflict increased damage in battle. Utilize Bros. Attacks that dish out massive damage!
In the brand new mode titled Minion Quest: The Search for Bowser, become the unlikely hero, Captain Goomba. Journey together with ShyGuy, Boo and other familiar Baddies.
The Minion Quest storyline takes place during Mario & Luigi's classic adventure. Find out what really transpired behind-the-scenes!
Compatible with amiibo™ figures* from the Super Mario series, including Mario and Luigi amiibo figures. Also coming soon are brand new Goomba and Koopa Troopa amiibo. The Goomba, Koopa Troopa and Boo amiibo figures will each have read/write compatibility.
Gameplay
The gameplay of Mario & Luigi: Superstar Saga has been updated to match that of more recent Mario & Luigi titles. The graphics of the original title have also been updated to match the series current art style established with Mario & Luigi: Dream Team, but with additional 3D lighting effects.[1] Other gameplay changes include the addition of the Emergency Guard introduced in Mario & Luigi: Paper Jam, Bros. Attacks and Advanced Bros. Attacks being made separate moves, and overworld moves being selectable from the bottom screen.[1] During battle, the bottom screen displays Mario and Luigi's stats.[1]
A new side mode has been added to the game, titled Minion Quest: The Search for Bowser, a side story set during the events of the main game in which players control Bowser's troops as they search for Bowser. In each stage the player guides a set of eight troops into battle against an enemy force as units automatically attack each other. During battles, players can spend CP (Captain Points) to use certain commands, such as buffing allies, causing a random effect, or cancelling commands from the enemy captain. This portion of the game also features amiibo compatibility.[1]
The game cannot be played in stereoscopic 3D.
Technical details
Media

Nintendo 3DS Game Card
Digital download.

Download size

4,389 blocks

Supported features

amiibo (Read/Write)

Input / compatible controllers

Nintendo 3DS
References