Site Notice
Please check our Coverage page to see what deserves an article and what doesn't.
Please welcome our first Editor-in-Chief, Toa 95! Congratulations!
Please no leaked content less than one year old, or videos of leaks.
Pokémon Blue Version (Japanese)
Jump to navigation
Jump to search
This article is about the Japanese special edition version of the Generation I games. For information about the worldwide version of the game, see Pokémon Red and Blue.
Pokémon Blue Version
ポケットモンスター 青
Pocket Monsters: Blue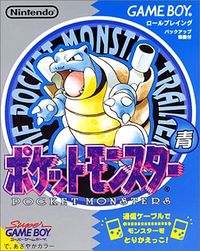 Boxart of Pokémon Blue Version
Japan:

December 1996[1](earliest possible mail arrival and beginning of dispatch date. October 15, 1996 CoroCoro Comic issue promotion)
October 10, 1999 (retail)
Pokémon Blue Version is a special edition Pokémon game only released in Japan for the Game Boy. It was originally only intended to be available for CoroCoro Magazine readers in 1996 through mail-order, and was later released at retail in 1999.
While it keeps the same structure as its predecessors, Pokémon Red and Green, Pokémon Blue features several updates to the game's graphics, includes new Pokémon sprites, different distributions of the Pokémon, new Pokédex entries, updated coding (including a few glitch fixes) and other changes. This game was the one used as the basis for the international release of the first Pokémon games, known as Pokémon Red and Blue Versions.
Like all main series Pokémon games, Blue features a young boy on his journey to defeat the eight gym leaders and the Elite Four in order to become a master. You start in Pallet Town where you will meet Professor Oak, and choose from one of three starter Pokémon. Later Pokémon will be available for capture later on the journey.
Gameplay
[
edit
]
The Pokémon games are different from most RPGs by the fact that you must catch your "party" to battle other Pokémon. You may run into other trainers who will demand to fight. Winning fights against other trainers will give you money. In a couple of towns, there are gyms where you must defeat the gym leaders. Defeating a gym leader will earn you a badge. There are eight badges in all. Earning all eight will unlock the Elite Four. Defeating the Elite Four and the Champion will have you become the Champion and win the game.
You can also trade Pokémon with your friends using a link cable. Each version has version exclusive Pokémon that is only in that version, and must be traded to get in the other game.
Related Games
[
edit
]
Other releases
[
edit
]
| Title | Boxart | Console | Release Date(s) | Notes |
| --- | --- | --- | --- | --- |
| Pokémon Blue | | Virtual Console (Nintendo 3DS) | 2016 | Emulated port for Nintendo 3DS. Communication between this game and Japanese language Red, Green, Pikachu (trading/battling) and Gold, Silver, Crystal (trading via the Time Capsule feature) versions is possible with wireless communications. Pokémon can now be uploaded to Poké Transporter. Pocket Monsters Stadium support is no longer possible. Unlike the cartridge version which would permit linking with non-Japanese versions, but handle the parties completely wrong, the Nintendo 3DS versions of Japanese Blue do not allow a link to take place between non-Japanese versions at all. |
External links
[
edit
]
↑ Translation: Forgotten Story of Pokemon Blue's Release - Lava Cut Content: The article notes that while certain sources even including the official websites of Nintendo and The Pokémon Company note the release as October 15, this was actually the release of the CoroCoro Comic issue which offered the mail promotion and the issue states the games would only be sent out the beginning of December. Not all games would make it by December, with the issue noting some games could arrive later in January. The article also notes payments were expected to be made after receiving the game.
| | |
| --- | --- |
| | This article is a stub. You can help NintendoWiki by expanding it. |